Six Jefferson students make semifinals of Regeneron Science Talent Search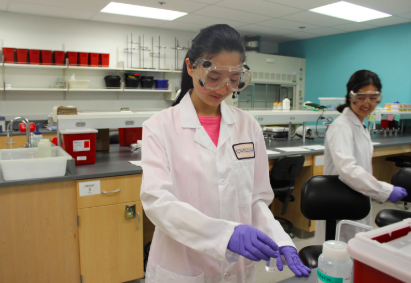 Zia Sun, Staff Writer
January 12, 2020
High school seniors across the country sit at their computers waiting for an email from the Regeneron Science Talent Search (STS) to arrive on Jan. 8, 2020. This contest is the nation's oldest and most prestigious science and mathematics competition and requires an extensive application process showcasing the student's background in STEM as well as a full-length research paper. This year, Jefferson students Sabrina Cai, Avyuk Dixit, Victoria Graf, Ankit Gupta, Benjamin Kang, and Neeyanth Kopparapu were recognized as being among the top 300 scholars across the country. The researchers, along with their school, received $2000 each for their accomplishments. 
"[The application process] was around two times the length of Stanford's application which is very well known to be the most rigorous [college application]," Gupta said. "There's 10 different essays as well as a research paper, information about your own research, information about past research experiences, and three or four letters of recommendation. They actually give you an STS shirt just for submitting the application." 
The 2019 application opened on June 1 and closed on Nov. 13. The judging process was led by members of the Society for Science & the Public, a non-profit organization in Washington D.C., in partnership with Regeneron Pharmaceuticals.  
"I knew I had the potential to make the semi-finalist round but I wasn't a hundred percent sure because there are so many qualified applicants," Dixit said. "It was humbling to be named a scholar and know I'm a part of a group of so many amazing and accomplished individuals." 
Dixit's uncle was diagnosed with an eye disease that causes irreversible blindness, so Dixit's project involved assessing glaucoma progression by using machine learning to analyze the visual fields of patients. While other Jefferson students used tools such as mathematical models, generative adversarial networks, computer vision, and deep learning, all of the independent researchers had a goal in mind while conducting their research: to improve the condition of those suffering. 
"My grandpa had a stroke a long time ago," Cai said. "It's not the same as brain cancer, [the focus of my research], but it has a similar effect on the nervous system in that it changes personality- the things that make you the way you are. Living with my grandpa, one of the hardest parts wasn't the physical disability but that his personality changed. Instead of being as caring as he was when I was younger, he would get really frustrated and yell or refuse to eat." 
Cai, inspired by her interest in the nervous system and her work in the neurooncology branch of the National Institute of Health (NIH), decided to investigate synthetic lethality as a more effective way of targeting brain cancer cells. After seeing what music can do for people by performing at senior centers, Graf saw stimuli in music as a potential treatment for depression and Alzheimer's. Gupta's grandfather suffered a series of transient ischemic attacks at the beginning of 2018, so Gupta developed a mobile app called StrokeSave to diagnose the likelihood of cerebral vascular strokes early on. Bombarded by news about the ongoing China-US trade war, Kang developed a mathematical model that predicted the outcomes of auctions. 
When Kopparapu found out that the symptoms of Parkinson's disease can be greatly reduced if treated in its early stages, he spent two years creating a predictive framework for the disease. 
"As with all medical devices, in order for it to actually be used, it needs to go through a series of clinical trials first," Kopparapu said. "So there's an organization known as the Michael J Fox Foundation which is big in the field of Parkinson's research. They've been helping me land [a trial] in the Boston Children's Hospital. I've also been working through the school with a patent lawyer and filed for an actual patent two days ago." 
The students will find out on Jan. 22 if they were selected as the top 40 finalists of the STS. These finalists will receive a minimum of $25,000 and will have the opportunity to spend a week in Washington, D.C. to present their research at the Regeneron Science Talent Institute.