HackTJ 7.0 to be held outside Jefferson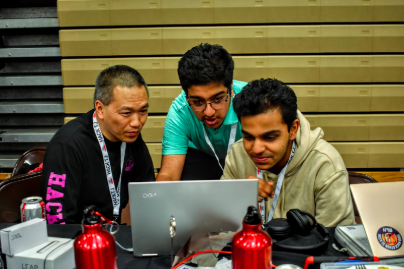 Zia Sun, Staff Writer
February 18, 2020
HackTJ, Jefferson's free student-run high school hackathon, has been relocated to the Cvent, Inc. office in Tysons Corner for its seventh year. This change was necessary because of the county-wide directive in 2019 that stated overnight events could no longer be held at FCPS schools. In order to continue the annual event, the HackTJ student team and its faculty sponsors Ms. Marianne Razzino and Ms. Rachel Mills searched for another feasible location. The location would need to be large enough to host five hundred student participants, as well as dozens of judges, mentors, and volunteers for 24-hours. 
"This year [HackTJ will be] held at a company called Cvent that has a really nice space that they rent out to people," senior Sarah Wang, director of HackTJ 7.0, said. "There's definitely a lot of learning that has to be done because the team is more familiar with working at TJ and the custodians here. So, going to a new location is going to be a very big change and it probably will be a little bit tough to begin with." 
However, due to FCPS's recent ban on overnight events at school campuses, the HackTJ team faced a decision: remove the overnight aspect of the hackathon, or find another location. 
"I think [it's definitely inspiring] to have an environment where you can see what a lot of like-minded people are working on and what they can create in just 24 hours," junior Umang Jain said. "I've been going to HackTJ since my freshman year." 
As hackathons are characteristic of their 24 hours of non-stop coding, the choice was ultimately made for the team. In order to preserve the overnight aspect of the event, they had to find another location to host it. While the new location comes with unfamiliarity for everyone attending, the Cvent office also has benefits that Jefferson does not. 
"[The Cvent office] routinely has 1000 people on Wi-Fi so we're pretty sure that the wireless network is going to be suited for our needs since we have only 500 students there," Ms. Razzino said. "Here at TJ, power was an issue in the past and we actually brought in generators. It's just kind of interesting to be able to have the event there so kids can like see what that workplace feels like."
One of the challenges the HackTJ planning team faced was finding room for workshops, the awards ceremony, coding, and food storage. The solution was to designate multiple floors of the building, which will require a group of parent volunteers to ensure the safety of the participants and smooth running of the event. 
"In the space we have right now there are areas where everything can happen," Wang said. "Obviously some things will change. For example, we're not going to have a big auditorium for awards. But we have figured out plans to accommodate for that. We'll just have to see how it goes this year but hopefully, everything will go okay."
However, the event being held at their own high school is a unique experience for Jefferson students; as a result, the planning team is pushing for an exception to be made in the policy, so far to no avail. 
"Last year, when I heard rumors about FCPS not allowing overnight events on FCPS campuses anymore, I expected either HackTJ to no longer be an overnight hackathon or for them to approach a different location," Jain said.  "It wouldn't be the same if it wasn't an overnight hackathon, so I was definitely hoping for it to be at a different location and I'm glad it will be."