Quizbowl hosts fourth annual trivia night at Jefferson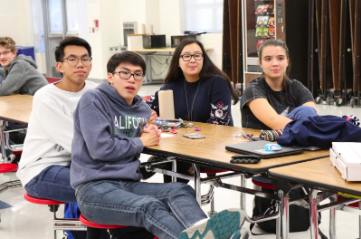 Zia Sun , Staff Writer
November 3, 2019
To mark the end of the first quarter and continue their annual tradition, Jefferson Quizbowl and teachers Jonathan Osborne and Adam Smith hosted the fourth Trivia Night in the Jefferson cafeteria on Nov. 1 after school.
Senior William Wang, co-captain of the Quizbowl team, wanted to continue his homage to a movie series with the event name. 
"For the past four trivia nights, I've been trying to name the trivia nights after Sharknado movies," Wang said. " But every year SGA has vetoed me when I say that we should name the official event after Sharknado.  Well, this year we have Trivia Night: The Final Frontier. And that is one of my biggest contributions to my high school career."
The event was no longer run in partnership with the Student Government Association, despite their collaboration last year. 
"I felt like we could accomplish the administrative side of trivia night, and the advertising on our own this year," senior William Wang said. "So I wanted to try it out for at least one trivia night, and see if it works well." 
In the Quizbowl-style competition, teams of up to five members answered trivia questions grouped by categories.Parents, teachers and students of all grades signed up to compete for the top prize of $100 in Amazon gift cards, as well as for the best team name.Parent volunteers and Quizbowl students sold candy, pizza and other refreshments during the event to raise money for the team. 
"Trivia night was a lot of fun because we got to use random and obscure facts we knew," senior Zoë Gomez-So said. "It was just a nice way to relax after college apps, and Dr. Smith and Dr. Osborne were high-quality hosts."
As the night wrapped up, it became apparent who the winners were. Team BLCRAFT Knights, composed entirely of freshmen, were victorious. Brian Lai, Alan Hsu, Daniel Lian, Andrew Shi and Reuben Coleman were in second place after the first score check and were in first for the rest of the contest. 
"I was surprised by our ability," Lai said. "There wasn't really any group dynamic: either someone knew the answer or no one did. Whenever there was a contested answer, we did argue though." 
BLCRAFT Knights all agreed that trivia night was a worthwhile experience. While the event was a fundraiser for Quizbowl, it was also an opportunity for everyone to participate in a trivia competition.
"I had been to trivia nights before and I didn't really like them because there wasn't enough actual knowledge involved as there is in Quizbowl," Lai said.  "I liked this one because it was just funny all the way through, and of course, we got that victory cash."
The night was successful for the Quizbowl club, and Wang encourages students to participate in future trivia night events. 
"If you tune in for number five, it will be called Trivia Night: The Global Swarming," Wang said. "I'm excited because I think that it's just such a great title. Unfortunately, there are only six Sharknado movies so we'll have to find a new franchise in a few years."