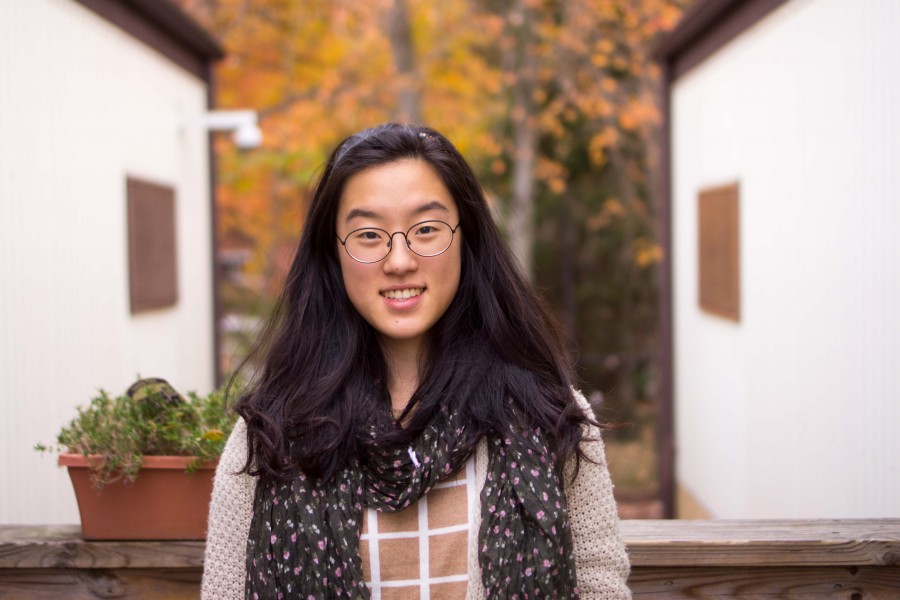 A senior at Jefferson, Sandy is in her fourth year of working on the newspaper staff. As Online Editor-in-Chief, she oversees tjtoday.org by editing and reviewing articles prior to publication, managing timeliness and working closely with the staff to think of creative content for the paper. In addition, she assists in the production of the print paper by writing articles, taking photographs and designing pages and infographics. In the past, Sandy has served as News Editor and Sports Editor.
Sandy joined tjTODAY because she loved--and still loves--to write and wished to reach out to the Jefferson community and encourage conversations through her articles.
Outside of journalism, Sandy currently serves as the
auctor
(editor) of the bimonthly newsletter of Jefferson's Latin Honor Society. She is the Publicity and Media Coordinator of the Executive Committee (ExComm), a member of the girls golf team and a regular volunteer at her regional library. When she has downtime, Sandy loves reading the library books piled up in her room, watching classics and foreign films and making progress on her top secret novel. She also enjoys taking pictures, exploring Washington, D.C. and catching up on much-needed sleep. After high school
,
Sandy would like to pursue a degree in English Literature.
http://sandycho.pressfolios.com
Sandy Cho, Online Editor-in-Chief
Jun 16, 2015

Boys tennis finishes season on a high note

(Story)

Jun 16, 2015

Discovery of new state of matter advances energy efficiency research

(Story)

Jun 16, 2015

Students should be able to have phones at ANGP

(Story)

Jun 16, 2015

Debate Profile: Girish and Ramani finish successful season of Public Forum debate

(Story)

Jun 13, 2015

tjSTAR culminates yearlong student research

(Story)

Jun 13, 2015

Jefferson holds annual J-Day event

(Story)

Jun 08, 2015

Food trucks offer eclectic options for lunches

(Story)

May 23, 2015

Jefferson clubs can help provide an early start for academic achievements

(Story)

Mar 27, 2015

Namaste holds annual I-Nite ceremony

(Story/Media)

Mar 21, 2015

Flow Day inspires hobbies and creativity

(Story/Media)

Mar 07, 2015

Jefferson students host Japanese exchange students in annual program

(Story/Media)

Feb 25, 2015

Technology heralds new era of journalism

(Story)

Feb 19, 2015

FCPS should make timelier cancellation announcements

(Story)

Feb 10, 2015

Class of 2013 alumna passes away

(Story)

Feb 03, 2015

Ranking the Ads: Super Bowl commercials provide laughs and pull heart-strings

(Story)

Jan 29, 2015

Jefferson students refurbish computers for underprivileged families

(Story)

Jan 27, 2015

Athletes consider the pros and cons of playing colonial sports during junior year

(Media)

Jan 26, 2015

Varsity wrestling competes at Joe Verciglio Memorial Tournament

(Story)

Jan 14, 2015

tjTOMORROW: The College Application Process

(Story)

Jan 11, 2015

Varsity basketball beats McLean Highlanders in close game

(Story/Media)

Jan 08, 2015

Six Jefferson students named 2015 Intel Science Talent Search semifinalists

(Story)

Jan 05, 2015

Wrapping Up Winter Break

(Story)

Jan 04, 2015

Students react to new terms and conditions for eighth period

(Story)

Jan 04, 2015

Amazon Studios delivers promising web series "Mozart in the Jungle"

(Story)

Jan 04, 2015

Top 14 of 2014: Hashtags that sparked conversations

(Story)

Dec 08, 2014

tjDestinations resource opens for public

(Story)

Nov 30, 2014

Humanities hold ribbon-cutting ceremony for staircase

(Story/Media)

Nov 30, 2014

Latin students travel to annual state convention

(Story/Media)

Oct 29, 2014

Graffiti should have no double standards

(Story)

Oct 26, 2014

LHS inducts new members with initation ceremony

(Story/Media)

Oct 19, 2014

18 Jefferson students named Siemens Competition semifinalists

(Story)

Oct 04, 2014

"The Legend of Korra" kicks off exciting and fascinating final season

(Story)

Sep 29, 2014

Designers at London Fashion Week speak out with their S/S collections

(Story)

Sep 28, 2014

Homecoming Week: Friday

(Media)

Sep 19, 2014

Homecoming Asking Week 2014: Friday

(Story)

Sep 17, 2014

Homecoming Asking Week 2014: Wednesday

(Story)

Sep 17, 2014

Jefferson community celebrates number one ranking with cake

(Story)

Sep 16, 2014

Homecoming Asking Week 2014: Monday and Tuesday

(Story/Media)

Sep 15, 2014

New York Fashion Week displays new trends with Spring/Summer 2015 collections

(Story)

Sep 08, 2014

SGA and Class Council members hold first Dining with Doc meeting

(Story)

Sep 05, 2014

CoEd golf team wins Senior Day match against Stone Bridge High School

(Story)

Aug 31, 2014

And the winner is…

(Story)

Aug 29, 2014

And the winner is…

(Story)

Aug 23, 2014

Sandy Watches Foreign Films: "Adrift in Tokyo" leads an oddball journey

(Story)

Aug 22, 2014

And the winner is…

(Story)

Aug 22, 2014

Sandy Watches Foreign Films: Reminiscing childhood with the Italian "Cinema Paradiso"

(Story)

Aug 15, 2014

And the winner is…

(Story)

Aug 08, 2014

And the winners are…

(Story)

Jul 25, 2014

And the winner is…

(Story)

Jul 18, 2014

And the winner is…

(Story)

Jul 11, 2014

And the winner is…

(Story)

Jul 04, 2014

And the winner is…

(Story)

Jun 20, 2014

tjTODAY Summer Photo Contest Rules

(Story)

Jun 16, 2014

Students with zero eighth period absences awarded with cool treats

(Story)

Jun 15, 2014

RHS holds truffle-making event

(Story)

Jun 15, 2014

Students perform Tchaikovsky's "Souvenir de Florence" during lunch

(Story)

Jun 15, 2014
Jun 14, 2014

Eighth period program ends for the year

(Story)

Jun 05, 2014

Interest meeting held for students considering science competitions

(Story)

Jun 04, 2014

IBETs hold annual robot competition

(Story)

May 28, 2014

Online Economics and Personal Finance course now offered for summer

(Story)

May 20, 2014

Students travel to Washington, D.C. as humanities extension

(Story)

May 08, 2014

Bhangra Team prepares for J-Day performance

(Story)

May 05, 2014

SGA/SAC representatives announced for next school year

(Story)

Apr 30, 2014

Yoga and meditation offered during eighth period for Stress Less, Laugh More Week

(Story)

Apr 29, 2014

SGA/SAC candidates present campaign speeches

(Story)

Apr 27, 2014

Students kick off month of promposals – Week 1

(Story)

Apr 14, 2014

Eighth period office implements changes to call-in system

(Story)

Apr 09, 2014

Swimmer profile: Seliskar reveals thoughts on being named Swimmer of the Year

(Story)

Apr 09, 2014

FPS teams succeed at State Bowl

(Story)

Apr 07, 2014

TJ Media celebrates journalism at JDAY

(Story)

Apr 01, 2014

Pharrell Williams celebrates girls with "G I R L"

(Story)

Mar 23, 2014

FLOW Day celebrates passion found in hobbies

(Story)

Mar 20, 2014

HOTJ achieves social media milestone

(Story)

Mar 15, 2014

Latin students participate in Ides of March celebration

(Story)

Mar 03, 2014

Academy Awards steps up from last year

(Story)

Mar 02, 2014

Girls soccer hold important meeting about season

(Story)

Feb 27, 2014

Students participate in PISA testing

(Story)

Feb 18, 2014

Winter pep rally celebrates athletes and Mr. Colonial

(Story)

Feb 16, 2014
Feb 15, 2014

Teasley describes involvement with Global Public Service Academies

(Story)

Feb 05, 2014

RDFZ Art Troupe holds performance at Jefferson

(Story)

Jan 28, 2014

Students take F=ma exam for first round of top physics competition

(Story)

Jan 25, 2014

A guide to online shopping

(Story)

Jan 18, 2014

Community reacts to newly proposed budget plan

(Story)

Jan 01, 2014

Top 13 of 2013: Songs

(Story)

Dec 22, 2013

"Saving Mr. Banks" brings magic

(Story)

Dec 14, 2013

Japanese students hold Oshogatsu festival

(Story)

Dec 08, 2013

School board approves for post-AP classes GPA boost

(Story)

Dec 04, 2013

Juniors take annual trip to tech labs

(Story)

Dec 03, 2013

Juniors go on enlightening trip to museums in Washington, D.C.

(Story)

Nov 24, 2013

New plan introduces changes for after-school extracurriculars

(Story)

Nov 23, 2013

Students react on social media to satellite launch

(Story)

Nov 19, 2013

Jefferson's publications recognized at JEA/NSPA fall convention

(Story)

Nov 13, 2013

Reception held for National Merit semifinalists

(Story)

Nov 10, 2013

Varsity volleyball advances to Regionals for first time

(Story)

Oct 21, 2013

Students reflect on Loudoun County's decision to continue relationship with Jefferson

(Story)

Oct 21, 2013

CoEd golf team ends championship season at States

(Story)

Oct 10, 2013

TJ Partnership Fund holds benefit concert

(Story)

Oct 06, 2013

Multiple teachers return to Jefferson after hiatus

(Story)

Sep 29, 2013

Sick students should stay home

(Story)

Sep 21, 2013

Seniors Ben Andre and Liesl Jaeger win HC court

(Story)

Sep 21, 2013

Colonials beat Wakefield at Homecoming game

(Story)

Sep 17, 2013

CoEd golf team ends season on a high note

(Story)

Sep 15, 2013

The second season of "The Legend of Korra" bends a captivating tale

(Story)

Sep 13, 2013

Homecoming Asking Week: Friday

(Story)

Sep 13, 2013

A Girl's Perspective: "Yes" isn't the only option

(Story)

Sep 12, 2013

Homecoming Asking Week: Thursday

(Story)

Sep 11, 2013

Homecoming Asking Week: Wednesday

(Story)

Sep 10, 2013

Homecoming Asking Week: Tuesday

(Story)

Sep 09, 2013

Classes hold annual Homecoming class meeting

(Story)

Sep 09, 2013

Homecoming Asking Week: Monday

(Story)

Sep 04, 2013

CoEd golf team looks forward to a successful season

(Story)