Designers at London Fashion Week speak out with their S/S collections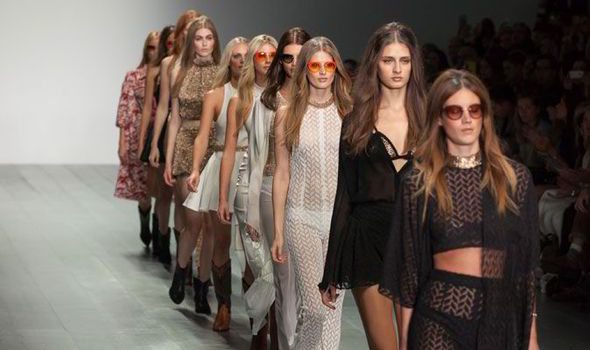 Sandy Cho, Online Editor-In-Chief
September 29, 2014
Following right at the heel of New York Fashion Week (NYFW), London Fashion Week (LFW) ran from Sept. 12-16, allowing designers to show off their looks for the next Spring/Summer 2015 collections.
Through social media sites, which have been playing a huge role in keeping people connected through hashtags such as #LFW, I was able to view the coolest trends for next year, including the rather cute and sportier looks from Topshop Unique and Burberry's gorgeous insect-themed designs. However, for this week, rather than picking out looks that blew me away, I was more intrigued in the different ways designers spoke out their beliefs and went against the norms.
Vivienne Westwood Red Label
Known for her punk fashion in the 70's and strong political beliefs that bled into her past collections, Vivienne Westwood expressed her political views on the vote for Scotland's independence from the United Kingdoms through her Vivienne Westwood Red Label show. With models adorning "Yes" pins, Westwood supported Scottish independence by leaving notes on every seat for the audience and later wearing the Scottish flag when talking to the reporters after the show.
However, focusing on the fashion,Westwood began the show by featuring 80's fashion with large powerful suits and shoulder pads in more muted colors before eventually returning to her characteristically bizarre and more feminine designs: pirate hats, fancy Victorian gowns in retro prints and asymmetric skirts.
Despite the off-putting messy hair, outrageous make-up and words printed on their foreheads, models showed off Westwood's newest collection in a way that made me pining for the pretty floral dresses and maybe even the black pirate hat when I'm feeling daring.
Ashish
There's no secret at the various Fashion Weeks that there is little racial diversity when it comes to the models strutting down the catwalk. In 2013, fashion icons Naomi Campbell and Iman, and Bethann Hardison launched the "Diversity Coalition" and sent letters for more diverse models. Despite slight improvement from their efforts, there is still a lot of change need to be seen. In fact, according to blog Jezebel, at New York Fashion Week for the Fall/Winter 2014 season, 78.69 percent of looks were presented by white models.
Deviating from the norm, Ashish Gupta presented his fun and glitzy Ashish S/S collection with an entirely black cast, including model Chantelle Brown-Young, who has the skin pigment disorder vitiligo. Though he was not truly "diverse" by not featuring Asian and Latina models, he still made a statement by casting models that, according to the aforementioned statistics by Jezebel, make up only 9.75 percent of New York Fashion Week.
The clothes in Gupta's collection were especially humorous and unique, especially the sweatshirt that featured sequined floating heads of rapper Kanye West and TV personality Kim Kardashian—which is something I would totally wear—and a shirt with the words "HI HATERS" emblazoned on the front. Nearly all the designs included shimmery sequins and glittery fabrics, a definite fresh and youthful contrast to the London fashion scene. From his funky designs and his willingness to cast only black models for his collection, I'm really looking forward to Gupta and the role he will play in shaking up the fashion world.
Meadham Kirchhoff
Unlike many designers who cast only models with waif-like looks reminiscent of supermodel Kate Moss or "daring" features, say Cara Delevingne and her bushy eyebrows, designers Edward Meadham and Benjamin Kirchhoff, the duo making up Meadham Kirchhoff, turned to the streets for unique models to strut their collection. With a flyer proclaiming, "Typical model looks not required," Meadham Kirchhoff held an open casting at their studio for people of all shapes and sizes.
The Meadham Kirchhoff S/S collection was definitely bold, surprising and fun, featuring futuristic punk-inspired looks for their collection that invited people to "Reject everything." Despite mismatching patterns and colors, strange stockings and even more bizarre combinations featuring latex, individual pieces of clothing will definitely appeal to those interested in punk and grunge fashion.
Featuring a cast comprising of both professional and street-cast models, Meadham and Kirchhoff is definitely not a boring collection, featuring funky and stylish pieces, such as a bright yellow coat with pink trimmings and rather "normal" color-blocking blouse that would look good without, you know, yellow rubber gloves and shin guards that belong on the soccer field.