Amazon Studios delivers promising web series "Mozart in the Jungle"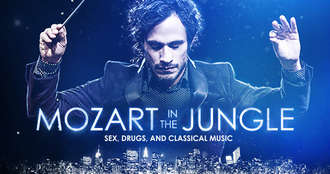 Sandy Cho, Online Editor-In-Chief
January 4, 2015
A new and passionate conductor with dramatic flair. A thoughtful oboist who dreams of playing on stage with the fictional New York Symphony. An eclectic cast of musicians, ranging from a sultry yet mothering cellist to a drug-dealing hippie percussionist. All these characters may make for a trite musical comedy-drama, but "Mozart in the Jungle" rises above the stereotypes with a heart-warming story of a young woman's desire to reach her goals.
On Dec. 23, Amazon Studios premiered the entire first season of its newest web series, "Mozart in the Jungle," inspired by oboist Blair Tindall's memoir, "Mozart in the Jungle: Sex, Drugs, and Classical Music." Though Amazon Studio's main competitor, Netflix, has released critically acclaimed shows, such as "Orange Is the New Black," and "House of Cards," Amazon didn't do so badly this time around. In fact, releasing the entire season was a good decision for viewers who enjoy binge watching over the holiday break.
The 10-episode "Mozart" begins with the story of heroine, Hailey, portrayed by Lola Kirke, an oboist hailing from New Carolina and now residing in New York City with her roommate, Lizzie (Hannah Dunne). As Hailey attempts to make it big with her oboe and perform with her dream orchestra, the New York Symphony is shaken by the arrival of the brilliant and charismatic Rodrigo, portrayed by Mexican actor Gael García Bernal and inspired by conductor Gustavo Dudamel. The drama begins once these two worlds collide.
One of my favorite scenes is when Rodrigo takes the entire orchestra to rehearse in between two buildings in lower Manhattan. Drawing a crowd, the orchestra realizes that they are making a difference—until the police come to break up the music and the gang finds themselves at the police station.
Despite the predictable plotline, strong characters held down the fort. Aging conductor Thomas, who's resentful of Rodrigo (Malcolm McDowell), cellist Cynthia (Saffron Burrows), stern first-chair oboist Betty (Debra Monk), president Gloria (Bernadette Peters) and the hilarious Union Bob (Mark Blum) are just a few who make the show enjoyable with their fleshed-out personalities and chemistry with each other.
However, there are several strange storylines and irritating characters that can get in the way. For example, Rodrigo's wife, the passionate and beautiful Anna Maria (Nora Arnezeder), is just a caricature of a suffering artist—and her scenes are painful to watch with cheesy lines. In addition, Hailey's love interest, Alex the attractive dancer from Julliard, was charming at first, but later came off as smug.
Overall, "Mozart" is pleasant, though it can get predictable and boring at times. However, despite the bumps and weaknesses, the show provides a winning cast of characters that makes me hope there will be a season two.
To watch the show, check it out on Amazon!