New York Fashion Week displays new trends with Spring/Summer 2015 collections
Sandy Cho, Online Editor-In-Chief
September 15, 2014
Though every September, I have always eagerly awaited the start of school, Pumpkin Spice Lattes at Starbucks and the crisp autumn air, nothing excites me more than the fashion weeks held at the largest cities in the world: New York, Paris, London and Milan.
This year, New York Fashion Week (NYFW), kicking off the month, ran from Sept. 4-11, in which fashion designers showed off their latest designs for their respective Spring/Summer 2015 collections.
Through social media platforms such as Twitter, Tumblr and Instagram, I was able to catch up on the latest exciting, fun and new designs and pick out what I think were some of the highlights of the week.
Marc by Marc Jacobs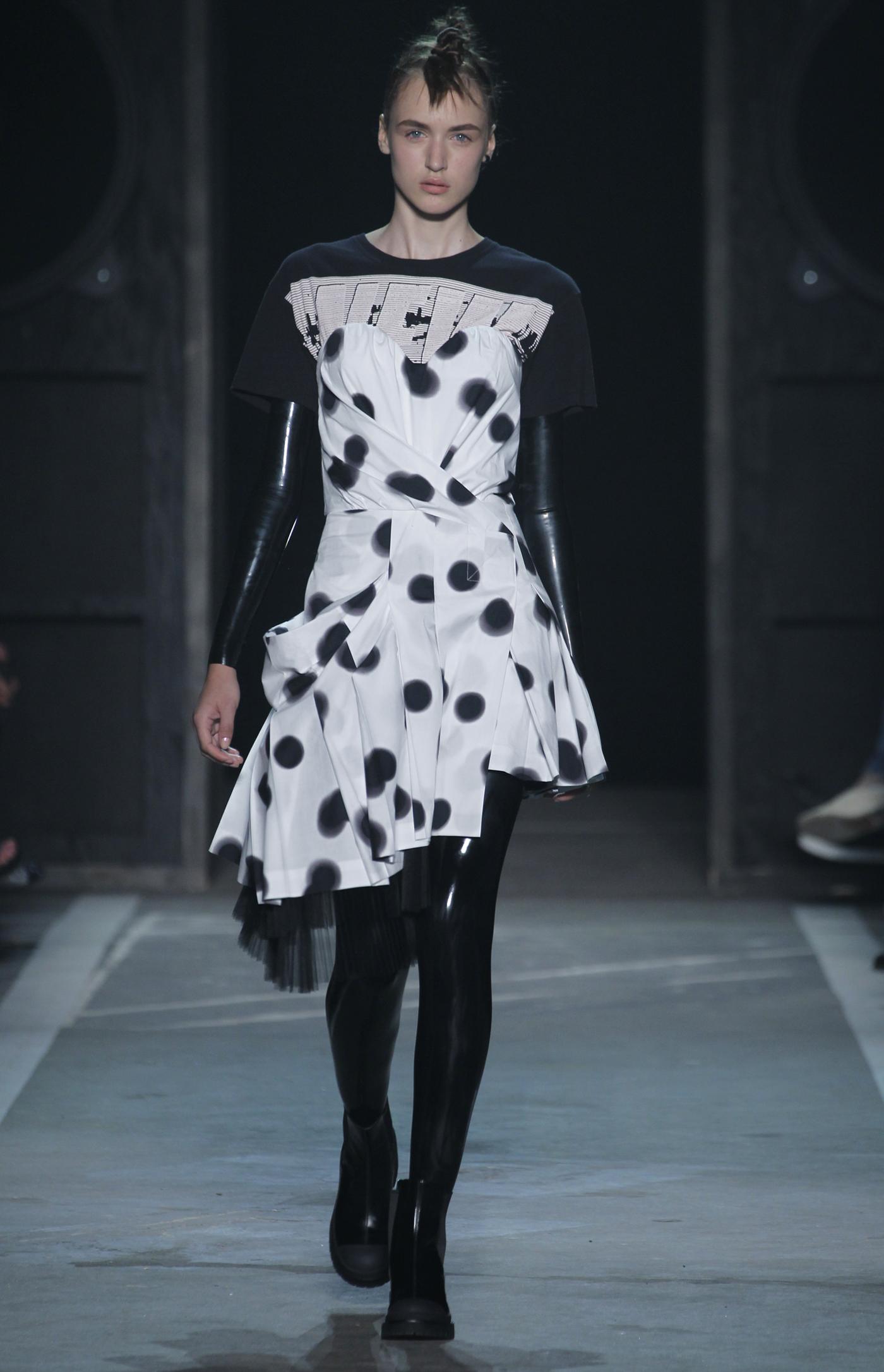 In their sophomore show for Marc by Marc Jacobs, designers Katie Hillier and Luella Bartley featured a punk-inspired collection, reminiscent of the English rave scene in the 80's. Models wore clothing that ranged from space-age shimmery fabrics and latex stockings to polka dotted asymmetric dresses paired with t-shirts. Though polka dots splashed across many clothing, they were a far cry from any girly innocence.
Giving off a tomboyish and confident vibe, models pulled their hair up into knots on the top of their heads to resemble Mohawks.
From rubber boots to large t-shirts proclaiming "new world system," the collection was energetic, powerful and gritty, straying from any grace and soft girlishness reminiscence of spring. Though I'm not sure I can walk the halls of Jefferson while wearing a cropped t-shirt twisted into a bandeau without getting dress-coded, I can definitely see those inspired by grunge and utilitarian fashion to be delighted by this collection.
Jeremy Scott
In a similar vein, designer Jeremy Scott addressed youth culture by collaborating with singer Miley Cyrus to feature brightly colored flower patterns and neon funky designs on graphic shirts—including jack o'lanterns and Shrek's head—and animal prints in his "Psychedelic Jungle" collection, a throwback to the 60's subculture.
At the show, Cyrus displayed her crazy art collection titled "Dirty Hippie," showcasing accessories made of plastic jewelry to weird sculptures made from vividly colored feathers and toys. Funky and bright, her accessories are reminiscent of the necklaces and bracelets I've made with friends at sleepovers in elementary school, as we strung little blocks of letters and mismatched glittery beads together.
Familiar with Scott's wild and creative style, I was not surprised to see models strutting down the runway while wearing teddy bear slippers, rubber boots decorated with flowers and his collection with Adidas sneakers. Scott's spring/summer collection was fun and exciting, especially the shirts with the phrase "Shrek happens" and dresses with a pattern of Shrek's heads and flowers contrasting with its background.
Anna Sui
Channeling the bohemian style, designer Anna Sui introduced mature and gorgeous flowery patterns and shimmery fabrics in her spring/summer collection without straying too far into nostalgia of the 70's, and rather, added a touch of modernity with a slight futuristic accent.
Sui's distinctive and unique style was present with the celestial jewelry, flowing vests with fringed edges and bohemian tops. Evoking an intergalactic feel, models had sparkly accents of gold eyeliners around their eyes, maintaining a natural look with wavy locks and subtle makeup.
Though this collection screams "Anna Sui!" with her homage to the 60's and 70's, it is definitely not repetitive from her previous shows. From pieces inspired by vintage clothing on eBay to blending in different eras and style, Sui's love for fashion and social commentary is evident in each of her shows.