"Up Late" gets off to slow start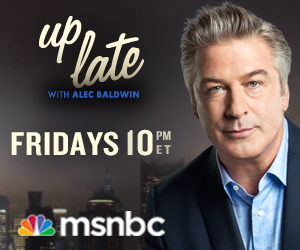 Star of "30 Rock" Alec Baldwin takes on a new side of television with his late-night talk show, "Up Late with Alec Baldwin" on MSNBC.  In his typical funny man style, Baldwin starred in commercials before the show's Oct. 11 premiere.  "Up Late" was seemingly presented as a political talk show with plenty of humor.
And yet, that isn't how the show really is.  Airing during the Friday 10 p.m. timeslot, "Up Late" seems to appeal to viewers of similarly marketed shows.   But instead of being in the fashion of "The Daily Show with Jon Stewart" or the "Colbert Report," Baldwin hosts the hour-long show in a relatively staid manner.
In the Oct. 25 episode, Baldwin opens up by giving a very short brief of the episode while seated in a comfortable diner setting.  Quickly the episode shifts gears, switching to Baldwin seated at a table with his first guest Chris Matthews, host of "Hardball," another MSNBC talk show.
The two are seated at a table on a wooden platform surrounded by a black background, giving a strange illusion of floating.  Aside from the strangeness of the setting, the interview leaves a lot to be desired.
The content, which includes religion, abortion, the economy and Matthew's new book, is relevant and fairly interesting.  However, the complete lack of humor  – something that both Baldwin and Matthews can clearly pull off while maintaining a serious tone – takes much away from the show.
At the halfway point, the episode's second guest, New York Times columnist Michael Powell, replaces Matthews.  Baldwin interviews Powell in the diner setting, with both inserting some jokes.  The relaxation of the show's atmosphere allows the discussion about the 2016 presidential election to come across better.
All that said, I have hope for the show.  Baldwin and MSNBC have potential to create a show slightly more serious than those of Comedy Central, while still being more informative.
If Baldwin is able to combine humor and seriousness – the way that Jon Stewart did when he interviewed Malala Yousafzai, a Pakistani student who was shot by the Taliban for promoting the education of women, the show will be much more successful.  Next week's episode, which will feature the co-stars of the prominent movie "2001: A Space Odyssey," will indicate whether the show will be successful or is doomed.