New summer-themed La Roux album re-defines meaning of synthpop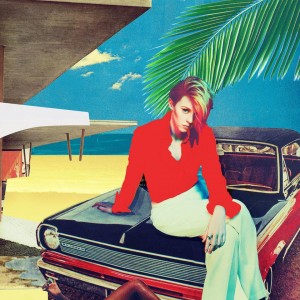 When reminded of electro synthetic pop (synthpop) artist, La Roux, one immediately finds themselves humming along to the extremely catchy tune of "Bulletproof" while reminiscing on the good times they had in 2009 jamming out to this Billboard top-charted song. However, although La Roux may still be rocking the same flaming red quiff as she had nearly five years ago, she is not the same artist as she once was.
With the release of her latest album on July 22, titled "Trouble in Paradise," La Roux has decidedly taken a new direction with her style of music. She has shown that the genre of synthpop is broader than previously ever thought, as her most popular songs sound nothing like the hits "Bulletproof" or "In for the Kill" of 2009 and 2010.
Her most popular song off of the new album, "Paradise is You," is the perfect love ballad for summer, which shows as it has already gained nearly 300,000 plays on Spotify. The song, about endless summer love, sounds more like a piece by Lana Del Rey than La Roux. Instead of a beat created entirely by synthesizers, the piano and violin encompass the majority of the instrumentals.
The song is much slower than any of the songs from La Roux's self-titled album, which is why the new songs off of "Trouble In Paradise" sound so new and different from anything she has ever done before. In addition, the faster paced songs such as "Sexotheque" or "Tropical Chancer" have a laid-back, beachy feel which accompanies the entire summer-themed album.
In fact, in order to solidify the theme of "paradise" on the album, La Roux has even added elements of the the steel drum and other synthesized island instruments, making the listener feel like they too are listening from the beach. This reminded me of something similar done by island pop group St. Lucia, which based most of their songs off of the steel drum and ukulele in their self-titled album.
Although the new La Roux is definitely different, I prefer this vane of synthpop which I didn't even know existed until I listened to "Trouble in Paradise." She has a way of churning out hits which not only are extraordinarily catchy, but make you want to sing and dance along, and go hang out on the beach all at the same time.