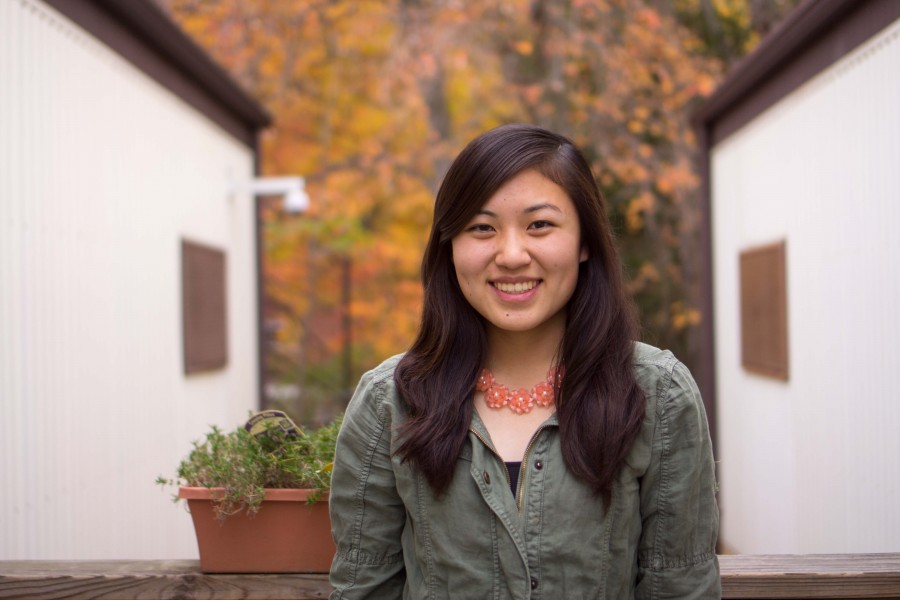 A senior at Jefferson, Ellen is in her fourth year of working on the newspaper staff. As Print Editor-in-Chief, she oversees the operations of the print paper by managing the distribution of labor among staff members and guest writers, in addition to providing support to section editors in their content and design decisions. In the past, Ellen has served as Managing Editor.
Ellen joined tjTODAY because of her love for writing, which she wanted to retain even while pursuing a STEM education at Jefferson. Through her work, Ellen hopes to foster the development of a well-informed, supportive and candid school community.
Outside of journalism, Ellen is a co-director of Kids Are Scientists Too (KAST), a STEM outreach program at local elementary schools. She is also a restorative justice facilitator for Jefferson's Honor Council and a member of Spanish Honor Society. In her free time, Ellen enjoys running on Jefferson's cross country and track team and taking pictures as she travels the world. After high school, Ellen would like to study engineering and translate her dedication to education into a career in academia.
http://ellenkan15.pressfolios.com
Ellen Kan, Print Editor-in-Chief
Jun 14, 2015

Counselors host "Dating 101" workshop for senior girls

(Story/Media)

May 18, 2015

Distinguished Indian luminary tours Jefferson tech labs

(Story/Media)

May 17, 2015

Jefferson hosts successful Penultimate track meet

(Story/Media)

Apr 12, 2015

Class of 2011 alumnus passes away

(Story)

Apr 07, 2015

Soothing tunes of "Vestiges & Claws" ultimately lack memorable qualities

(Story)

Mar 11, 2015

Class of 2011 graduate passes away

(Story)

Feb 28, 2015

Journalism can be a valuable experience, even for STEM majors

(Story)

Feb 26, 2015

Planning committee moves forward with tjSTAR preparations

(Story/Media)

Feb 10, 2015

Class of 2013 alumna passes away

(Story)

Feb 04, 2015

2015 D.C. Regional Scholastic Art & Writing Awards announced

(Story)

Feb 04, 2015

TJ Drama places second at Conference 13 Theatre Festival, advances to Regionals

(Story)

Jan 31, 2015

Ella Henderson astounds with powerful vocals in 'Chapter One'

(Story)

Jan 28, 2015

Inaugural Mobile and Web App Development Lab broadens Jefferson computer science program

(Story)

Jan 27, 2015

Athletes consider the pros and cons of playing colonial sports during junior year

(Story)

Jan 25, 2015

TJTED kicks off foreign ambassadors project with Ambassador of Liechtenstein

(Story/Media)

Jan 25, 2015

Snow day excitement does not excuse rude behavior on social media

(Story)

Jan 24, 2015

TJ Media seniors attend third annual SoSTEM conference

(Story)

Jan 04, 2015

Top 14 of 2014: Best Dressed Celebrities

(Story)

Dec 09, 2014

KAST emphasizes STEM education for younger students

(Story/Media)

Dec 07, 2014

Pentatonix's Christmas album steals the spotlight

(Story)

Nov 17, 2014

TJ Drama delivers with impressive rendition of "The Front Page"

(Story)

Nov 09, 2014

Jefferson publications bring home awards from national journalism convention

(Story)

Oct 31, 2014

"Gypsy Heart" marks Colbie Caillat's masterful transition to pop

(Story)

Oct 29, 2014

Martial artist profile: Li dedicates time to perfecting the art of Wushu

(Story)

Oct 27, 2014

tjTOMORROW: Columbia University

(Story/Media)

Oct 16, 2014

The PSAT is a faulty standard of comparison for identifying scholarship awardees

(Story)

Oct 02, 2014

"No Sound Without Silence" is the uplifting soundtrack of happiness

(Story)

Sep 28, 2014

SGA announces Homecoming Court and shows off floats at halftime

(Media)

Sep 28, 2014

Jefferson faces defeat in Homecoming game against Marshall

(Media)

Sep 28, 2014

Homecoming Week: Friday

(Story/Media)

Sep 25, 2014

Homecoming Week: Thursday

(Story/Media)

Sep 24, 2014

Homecoming Week: Wednesday

(Story/Media)

Sep 23, 2014

Homecoming Week: Tuesday

(Story/Media)

Sep 23, 2014

Homecoming Week: Monday

(Story/Media)

Sep 19, 2014

Homecoming Asking Week 2014: Friday

(Story)

Sep 18, 2014

Homecoming Asking Week 2014: Thursday

(Story)

Sep 17, 2014

Homecoming Asking Week 2014: Wednesday

(Story)

Sep 16, 2014

Homecoming Asking Week 2014: Monday and Tuesday

(Story)

Sep 10, 2014

129 Jefferson seniors named as National Merit Semifinalists

(Story)

Sep 09, 2014

Jefferson responds to federal crackdown on unhealthy snacking

(Story)

Sep 07, 2014

Cross country team anticipates future success after Monroe Parker Invitational

(Story)

Aug 31, 2014

The dog days aren't over: Staying in shape and eating smart during injury recovery

(Story)

Aug 22, 2014

"The Book of Unknown Americans" is an eloquent, heartbreaking gem

(Story)

Aug 20, 2014

The dog days aren't over: Besting stormy weather and other limiting factors

(Story)

Aug 08, 2014

"The Killing" ends with an emotional and thrilling final season

(Story)

Jul 17, 2014

The dog days aren't over: Indulging summertime lethargy is never the solution

(Story)

Jun 30, 2014

Kim's winning submission kicks off new One Question initiative

(Story)

Jun 09, 2014

Class Council and Honor Council election results announced

(Story)

Jun 08, 2014

"Orange is the New Black" returns with explosive, inventive second season

(Story)

May 25, 2014

Physics Team wraps up successful year

(Story)

May 18, 2014

Honor council looks forward to welcoming new members

(Story)

May 02, 2014

Innovative promposals round off last week before APs

(Story/Media)

Apr 29, 2014

Jefferson relay teams compete at renowned Penn Relays

(Story)

Apr 27, 2014

Newly formed TJ Envirothon team excels at Regionals

(Story)

Apr 25, 2014

Jefferson alumni return for annual career fair

(Story/Media)

Apr 13, 2014

Chess team wins big at San Diego national tournament

(Story)

Apr 13, 2014

Track team hits the ground running with successful second invitational

(Story)

Apr 06, 2014

"Head or Heart" is a step in the right direction for Christina Perri

(Story)

Mar 30, 2014

Chandrashekar spearheads successful computer science outreach initiative

(Story)

Mar 17, 2014

Students, faculty and local runners enjoy annual Pi-Miler

(Story)

Mar 15, 2014

TJ Quizbowl triumphs at "It's Academic" playoffs

(Story)

Mar 14, 2014

Public Forum competes at WACFL Metro Finals

(Story)

Mar 10, 2014

Performer profile: Bhatia shares her passion for music through hosting TV segment

(Story)

Mar 09, 2014

Winter track athletes conclude season at state championships

(Story)

Mar 09, 2014

I-Nite 2014: Reliving the hype

(Story/Media)

Mar 02, 2014

Student profile: Ahlers reflects on I-Nite

(Media)

Mar 01, 2014

Students gain hands-on experience during Biology Society heart dissection

(Story)

Feb 23, 2014

Winter track team races at regional meet, individuals and relays advance to States

(Story)

Feb 21, 2014

FAQ: What you have always wanted to know about tjTODAY

(Story)

Feb 16, 2014

Restrictions on fulfilling graduation requirements affect student course selections

(Story)

Feb 14, 2014

Trailblazer profile: Zug encourages female participation in computer science

(Story)

Feb 08, 2014

Off-campus lunch will be an option for some rising seniors

(Story)

Feb 04, 2014

Indoor track team races at Atlantic Coast Invitational and prepares for Districts

(Story)

Jan 31, 2014

Jefferson debate and speech teams attend Columbia Invitational

(Story)

Jan 27, 2014

Actor profile: Ryjik explores his love for theater in and out of school

(Story)

Jan 23, 2014

Envirothon participants attend sustainable agriculture workshop

(Story)

Jan 20, 2014

A capella country band releases stunning debut album

(Story)

Jan 15, 2014

TJ Quizbowl team emerges as conference champion

(Story)

Jan 08, 2014

Polar vortex impacts the Jefferson community

(Media)

Jan 07, 2014

"Downton Abbey" premiere goes above and beyond

(Story)

Dec 29, 2013

Top 13 of 2013: What Mentally Strong Students Avoid

(Story)

Dec 20, 2013

Students sample treats at FBLA Marketplace

(Story)

Dec 14, 2013

College and Career Center introduces summer opportunities to students

(Story)

Dec 07, 2013

Student creativity shines through in holiday sweater design contest

(Story)

Dec 06, 2013

Amnesty International campaigns for human rights with annual write-a-thon

(Story)

Dec 02, 2013

Stumvoll races at competitive Foot Locker South Regional meet

(Story)

Nov 27, 2013

Incredible a capella arrangements in "PTX Vol. II" captivate listeners

(Story)

Nov 23, 2013

Athlete profile: Stumvoll reflects on outstanding cross country season

(Story)

Nov 23, 2013

Cross country team reminisces about standout season on Senior Night

(Story)

Nov 18, 2013

Russian students challenge themselves through writing

(Story)

Nov 12, 2013

Jefferson musicians perform at Senior Regional Orchestra

(Story)

Nov 09, 2013

Cross country shines at regional meet to qualify for States

(Story)

Nov 03, 2013

Cross country sweeps conference championships

(Story)

Nov 03, 2013

Biology Society arranges cow eye dissection

(Story)

Nov 01, 2013

Students plunge into National Novel Writing Month

(Story)

Oct 25, 2013

Spanish Honor Society gives back to community

(Story)

Oct 23, 2013

Malfunctioning Common App exasperates seniors

(Story)

Oct 22, 2013

Visiting author gives advice to aspiring student writers

(Story)

Oct 20, 2013

Sheptyck brings love of history and student-centered learning

(Story)

Oct 19, 2013

Cross country team races in annual overnight

(Story)

Oct 19, 2013

Active Minds panelists lend a helping hand to underclassmen

(Story)

Oct 07, 2013

Underclassmen outshine competition at Octoberfest Invitational

(Story)

Oct 02, 2013

Summer interns continue projects through mentorship

(Story)

Sep 22, 2013

Jefferson underclassmen dominate at Oatlands Invitational

(Story)

Sep 20, 2013

Spanish exchange students enjoy Homecoming celebrations

(Story)

Sep 19, 2013

Theme Day bolsters class spirits

(Story)

Sep 18, 2013

Groups go all out for Twin Day

(Story)

Sep 17, 2013

Students deck out for a Hawaiian-themed spirit day

(Story)

Sep 16, 2013

Students show school spirit for Dress Your Best Day

(Story)

Sep 12, 2013

Innovative "Orange is the New Black" dazzles viewers

(Story)

Sep 02, 2013

Cross country places high at PR Kickoff Invitational

(Story)

Aug 30, 2013

Cross country team anticipates a stellar season

(Story)