2023 class council kicks off Pi Miler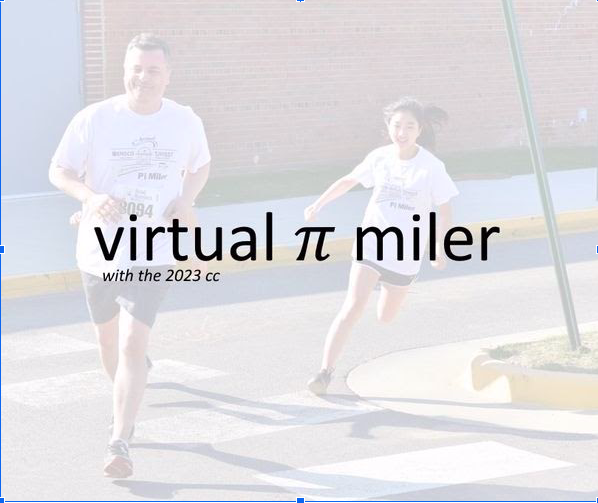 To celebrate Pi Day, the 2023 Class Council organized a week-long event – the annual Pi Miler. Lasting from March 8 to March 14, the Pi Miler was open to anyone in the Jefferson community. An exciting change of pace from the everyday routine, the Pi Miler encouraged students to go outside and run.
"The Pi Miler is an annual event that's usually held by the sophomore class council. TJ students meet – typically sometime over the weekend – and run 3.14 miles in commemoration of it being March 14 – also known as Pi Day. We use it to celebrate the fact that we as a community are not only interested in mathematics and academics, but we also want to get out there and hang out with other students," sophomore secretary Christina Han said. "We want to have a nice day where everyone can get to know each other a little better while getting some exercise as well."
Although this year's students cannot experience the food and celebration of Pi Day together, the 2023 Class Council managed to find an alternative that still allowed students to participate in the event.
"Our virtual Pi Miler differs because we had to move everything online, which means it was difficult to organize a synchronous time period where everyone goes out and runs or walks 3.14 miles. Because of that, we put out a form earlier this week saying that participants can go outside and run anytime from Monday to Sunday," Han said. "We made it more flexible this year because we know that it's a little difficult without the incentive of having a community there to do it with you."
Moreover, this year's flexibility allowed for runners to enter the Pi Miler in three distinct categories. Through the diverse options offered, the class council hoped that it gave the participants a sense of normalcy.
"We had three submission categories. First, runners could run 3.14 miles. Another option was to run a route that resembled pi – or an actual pie. Finally, runners could submit a video of themselves running while reciting the most digits of pi that they could," sophomore and senator Rushil Umaretiya said. "Hopefully, this inspired a little bit of creativity and spiced up the event."
Additionally, not only were participants allowed to choose their form of submission, but they were also allowed to enter free of charge. Contrary to the previous years where the Pi Miler was a shining opportunity for the sophomore class fundraising, this year's class council decided to host the event for the purpose of community bonding.
"It is no secret that it's difficult to connect and get to know other people. We wanted it to be as easy as possible for everyone to participate because it's not about the funds this year – it's about getting together as a community and supporting each other through these difficult times. We thought it would be much more inclusive and a lot more people would be inclined to join if it were a free event," Han said. "Of course, in years prior, this was a major fundraiser for the sophomore class council. So, we are actively brainstorming ways to make up for those funds."
However, fundraising issues were not the only problem faced this year. In order to get the event approved, the team of sophomore officers went through multiple ideas which led to the virtual Pi Miler offered.
"The administration is very strict about their fundraising, so it's very difficult to get events planned. For instance, we've pitched at least five events this year, and all of them except one have gotten shut down. We decided a few weeks ago that we wanted to least have something happen. So, we decided to do a virtual Pi Miler," Umaretiya said.
Because of the virtual setting, the 2023 Class Council also encountered challenges regarding advertising and interactivity.
"I think the biggest thing was basically trying to figure out how to make the Pi Miler as interactive as possible. If we were in person, it would be very easy because we could just use a megaphone and talk to everybody at once. I think the biggest challenge was keeping people connected during the event – sharing results, sharing pictures. Essentially, we wanted to try to simulate the in-person experiences," Umaretiya said.
Despite the challenges, the virtual Pi Miler ended up being a success with over thirty participants. In addition, the sophomore class council has planned various surprises for participants.
"Everyone who submits an entry will get a prize of some sort. What we're doing right now is a random selection where a few individuals will get a pizza or a gift card delivered to them," Han said. "The logistics of that would have to be figured out based on which individuals are selected and if they can actually receive a plate of pizza. For now, this is our plan."
Furthermore, although the class council has submitted the Pi Miler to many changes to maintain the Pi Day tradition, it was still an event that brought the Jefferson community together.
"The Pi Miler in general is a pretty exciting event. I mean, TJ's track team is great, but most people who are participating aren't actual runners. Essentially, we had people who don't usually run that much going out and actually getting exercise. So, it's fun to watch, and it's fun to participate," Umaretiya said.