2023 class council hosts virtual movie nights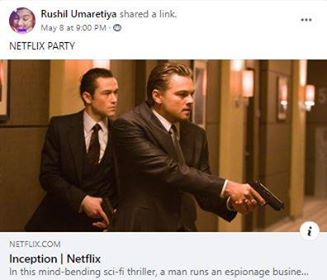 The 2023 class council is hosting weekly Friday movie nights on Netflix Party and Zoom.
After virtual IBET Wars was met with little participation, the class council has picked up another idea that they had already started planning before the coronavirus cancellation – movie night. 
"We were going to rent out the auditorium, [and] that was already in the works for early May. So we were like, let's do it online," freshman senator Rushil Umaretiya said.
The first movie night was held on May 1, when freshmen watched the zombie thriller, Train to Busan. On May 8, a second movie night showed the science fiction film, Inception. 
"We just wanted to give some unfiltered social outlet for people," Umaretiya said. "There's pretty much nothing [else] that's connecting us."
Because the class council has struggled with attendance before, Umaretiya didn't expect many people to come. 
"I was expecting it to just be like everything else [where] nobody shows up. It was actually much, much better than we expected. 40 people went," Umaretiya said.
The platform they use, Netflix Party, allows for an interactive experience where the freshmen can watch the movie and discuss it in the chat box at the same time.
"First, we all watch the movie together. And then afterwards we talked about what we thought about certain scenes, who our favorite characters were," freshman Daniel Kim said.
Compared to other class council initiatives like IBET Wars, movie night has been a more unique experience for him.
"I think this is definitely tailored more towards getting to know everyone in the class of 2023," Kim said. "It's just a more personal experience."