SGA releases virtual learning survey results
The Jefferson Student Government Association (SGA) has published the results from the midyear student survey on virtual learning that was administered in January 2021. The data, including the SGA's pinpointed rationale and highlights, are all compiled on a document which can be accessed here.
"Of the approximately 1800 students who received the link to the survey, 467 students responded, which exceeded the amount needed for a statistically reliable sample," the SGA said in the published document.
Freshmen Sri Vellakkat and Neanth Suresh, as well as Sophomore Shivank Bhimavarapu, are not surprised by most of the results of the survey.
"As a student, there wasn't much in the survey that surprised me as most of [the results] were roughly what I expected," Vellakkat said.  
However, there were some results that were particularly surprising for Vellakkat and Suresh. For one, Suresh was surprised to see that though 65.7 percent of respondents claimed that they spent more time on homework than the FCPS-mandated guideline of 75 minutes per class every week, 60.5 percent of the respondents also claimed that the amount of work they received was manageable or that they could do more work. 

"It shocked me to see that even though a lot of people said more than 75 minutes of work was given in each class, the work was still manageable," Suresh said.
On the other hand, Bhimavarapu was not surprised that many still find the amount of work to be manageable, as he remembers there being way more than 75 minutes of work per class each week before virtual learning. 
"I was not surprised to see that many students find the work to be manageable, regardless of the 75 minute limit being crossed, as having more than 75 minutes of work in each class was normal before virtual learning, and I guess myself and many upperclassmen are used to it," Bhimavarapu said.  
Regardless, Suresh and Vellakkat believe that a stronger effort needs to be put forth by teachers to limit work to 75 minutes per week to free up time for students to pursue their hobbies and socialize online. 
"My biggest gripe with online learning this year has definitely been the ignorance of the 75 minute rule for homework in each class by the teachers," Vellakkat said.
Something that piqued Vellakkat's curiosity was the seemingly large divide between respondents when it came to a question about the frequency of student advocacy being invoked as well as a question about the quality of sleep students were getting compared to previous years. The results for both questions are almost perfectly split between the three answer choices.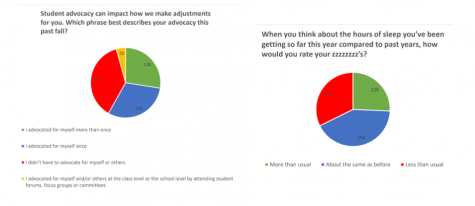 "One thing that slightly perturbed me were the results for the student advocacy and sleep question as the answers are split evenly," Vellakkat said. 
When asked about what he wanted to be added to a future survey, Bhimavarapu stated his wish for a question about how comfortable students feel asking for help from teachers and classmates.
"Through my experiences, I have found that it is really important and something TJ students have trouble with," Bhimavarapu said. 
Lastly, Vellakkat urges those who didn't take the survey to take it next time in order for the SGA to gain a more in-depth and accurate representation of Jefferson students' experiences and opinions as well as be able to push for more positive change.
"Unless we actually drive change, no one will do it for us. If you didn't fill out the survey this time, answer it next time," Vellakkat said.