Class council coordinates senior skip day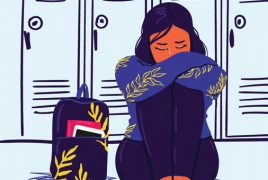 Seniors relaxed at home instead of virtually attending class on Tuesday, Nov. 24, which was the only synchronous instructional day during the week of Thanksgiving break. 
Senior skip days normally occur multiple times throughout the year in connection with out-of-the-ordinary events, such as the day that juniors take the PSAT or the day after iNite. This year, however, Nov. 24 was the first senior skip day planned by the 2021 Class Council. 
"They'll probably be more frequent towards [the] second semester since there's going to be less participation from the seniors then anyways," senior Ananya Bagai, historian of the 2021 Class Council, said. 
Bagai observed that more seniors actually logged in to Blackboard Collaborate classrooms than she expected. 
"I think a bunch of people went to class today. It depends on the classes that you have, but… it's not a huge effort to go to class, so less people skipped than normal," Bagai said. 
Bagai and other members of the 2021 Class Council planned Tuesday's skip day partly to carry on tradition from past senior classes, but also to simply give their classmates a chance to unwind after weeks of nonstop homework and early college application deadlines. 
"When I was a freshman, that was always something that I looked forward to senior year… having a skip day just to hang out with your friends and kind of wallow in self pity with all the college apps that you have," Bagai said. 
In the future, Bagai hopes that she and her fellow Class Council officers will have new incentives to offer seniors to encourage them to abstain from attending school. 
"We were looking into hosting a drive-in movie today, but that did not really work out. I think [it was] a little bit short notice. We might come back to that later in the year," Bagai said.