mineCRAFTING Jefferson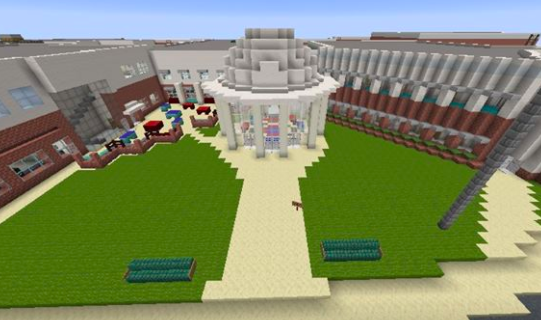 The clock's hand ticked minute by minute. The minutes turned into hours and eventually days. Junior Quentin Lovejoy has had enough of the COVID-19 break. He gathers a group of about twenty students and sets out to do a challenging, time-consuming task: building the Minecraft replica of the Jefferson building.
"It started about four days into the break," Lovejoy said. "I sent out a message to the drama group chat, and I actually got a decent amount of people to join."
Lovejoy had completed a similar project in middle school. Originally, the plan was just to build the Jefferson auditorium, but Lovejoy decided to expand the project to the dome. Within ten days, they had completed the whole school building.
"Our next step is to build the athletic fields," Lovejoy said. "Currently we are working on the football field and bleachers."
The builders have used the project to keep in touch with each other over this extended break and pass time while at home. The task has kept them active through these last few weeks.
"I originally started working on it because it seemed like a fun project," sophomore Leydi Crobo said. "But now it has turned into a way to cope with schools being closed." 
The hours spent looking at the Jefferson layout and figuring out how to build certain features has helped them learn more about the Jefferson building. They had to recall how the building was designed, which was harder than they thought.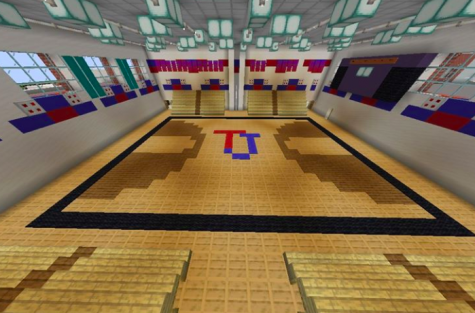 "We all know the general layout of TJ pretty well, but we don't ever really stop to think about specifics," Cobo said. "I've learned how important attention to detail is."
Lovejoy is not planning to stop here. He wants to build a Hunger Games version of Jefferson and more. The replica has been shown to the counselor team and they have expressed a lot of enthusiasm for it. The Minecraft replica will be available by April 11.
"I'm excited to see what people do with it," Lovejoy said.