Too Warm For School?: Greenhouse projects put on hold due to lack of cooling system and other modifications
Angel Kim, Social media and entertainment editor
May 10, 2018
Jefferson's greenhouse has been completed for over a year now, but has held few projects because it is unusable for a large part of the year.
Why? It still lacks an air conditioning system.
While the greenhouse is equipped with a heating system for the winter months, Virginia's climate is too warm from spring until early fall, and many plants would not be able to withstand the temperatures, making it difficult to conduct long-term projects.
"We were lucky to get the designers to include [the greenhouse] in our courtyard, but the entire electronics for the greenhouse was not completely established. So it's functional and it works; we have water, we have the area that we asked for," Oceanography and Geophysical Systems Research lab director and Greenhouse Club sponsor Lisa Wu said. "[But] it's hard to keep anything going. We want to not just plant plants for a few weeks out of the year, we want to keep projects going and we want to be able to use it 12 months out of the year."
Wu has been in communication with Fairfax County Public Schools (FCPS) Design and Construction Services engineers and contractors to address the issue, holding meetings as questions arise.
"I was really hoping [the air conditioning would be installed] by the end of this school year," Wu said. "New drawings based on our last meeting are currently being made. After these are approved, a work order will be put in for materials and labor."
Greenhouse Club members currently spend club meetings planning what plants can be be grown in the greenhouse after construction is completed. According to former member senior Supriya Savaram, the club has also organized the greenhouse into two sections for academic research and more recreational use that would be open to all clubs.
"We split the two sides of the greenhouse for student and research groups and clubs and recreational use, and on the club and recreational use side we put tables [for] pots of plants," Savaram said.
Jefferson originally had a greenhouse before renovation, where plants were sold for various seasons and events, such as corsages during Homecoming and herbs during the spring. It also held freshman IBET and senior DNA science lab projects.
"The greenhouse was part of school tours and open house events and it was maintained during the summer months," Wu said. "A pond was established outside the greenhouse with a small footbridge. Marsh type plants were grown along the edge."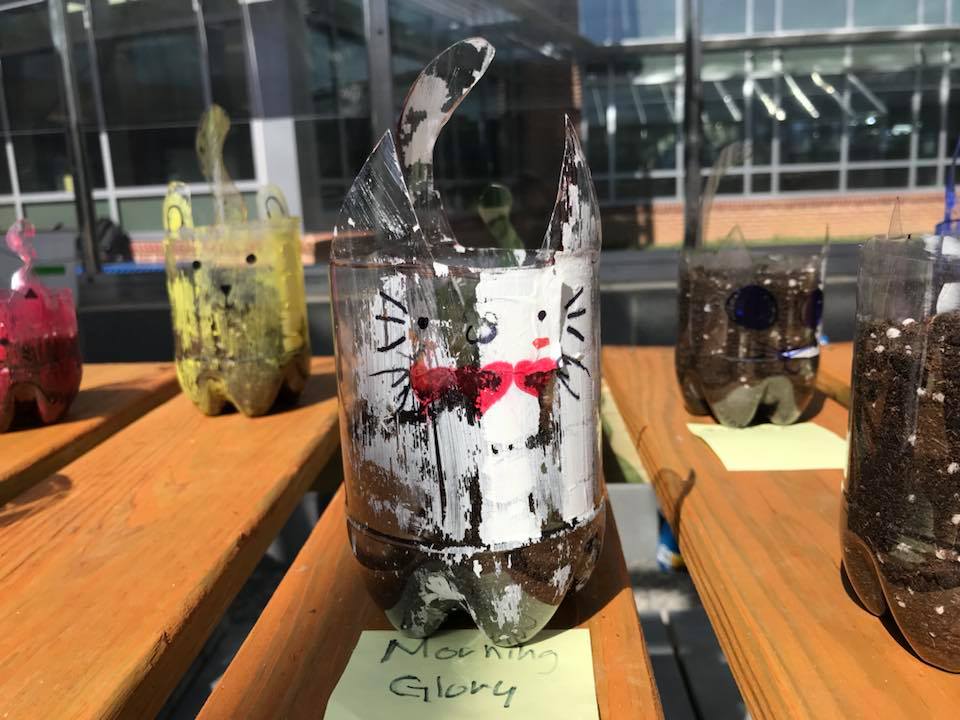 Knowing that many plants would not be able to tolerate high heats in the upcoming weather, Environmental Resource Club (ERC) members selected a variety of different seeds to find which plants grow the best for an activity held in the greenhouse on April 20, in which they planted seeds in upcycled soda bottle planters.
"[We] wanted to see which one would hold up the best. We got both flowers and herbs, so we got tomatoes, basil, mint and then some flowers," ERC president senior Megan Lin said. "We were just like, 'Let's try a little bit of everything and see what works for next year.'"
On the other hand, some projects are more dependant on reliable temperature controls. Geosystems teacher Shawn Stickler has been interested in using the greenhouse for aquaculture, or "farming in the water."
"When you're dealing with aquaculture organisms, they have a very limited tolerance of conditions," Stickler said. "Most students [are] not aware of it, but there are students in the oceanography lab that are doing some culture [research], so we think once we get the greenhouse going, we'll get some of the kids in oceanography and start doing some projects out there."
In any case, a functioning greenhouse provides a dedicated outdoor environment for environmental projects.
"Greenhouses help ensure full sun exposure unlike putting them on windowsills or even sometimes on your porch because of so many potential sources of shade," Lin said.
In addition to air conditioning, other planned modifications to the greenhouse include shelving, a reverse osmosis system and new pipes to move water. Though these additions, along with delays in construction during testing, might make the process last longer, the greenhouse will be able to hold a greater variety of research projects as a result.
"To maintain aquaculture projects, a reverse osmosis system is needed for water quality to remove the chlorine and chloramine that the County uses as a disinfectant in the water supply. New pipes are being added to connect to the aquaculture side and to bring water in that we can filter properly and use in our large tanks and caldwells," Wu said. "At this time of year, construction cannot take place during AP and SOL exams. I know it has taken thyme, but when it is completed, it will be radishing."