Top 16 of 2016: Overexposed Trends
In more ways than one, 2016 is a year to be remembered.  While the year was arguably not the greatest in terms of social reform and political development, its wealth of viral Internet memes was the gift that kept on giving.  Here are some of 2016's highlights.
16. Biden Memes
The friendship between President Barack Obama and Vice President Joe Biden is one for the ages. Now that the president's eight-year term in office is coming to an end, the Internet mourned Obama and Biden's departure via a series of memes celebrating their friendship.
Biden: I'm not giving them the wifi password

Obama: Joe…

Biden: I said what I said pic.twitter.com/l17SaIeQke

— uncle jesse (@pieceofjay) November 11, 2016

15. Water Bottle Flip
At first glance, it seems like an innocent endeavor: throw a water bottle in the air so that it rotates, and see if it lands upright. But this initially mundane activity took 2016 by storm as people across the country strived to perfect their water bottle flip.

14.Pokémon Go
When Niantic released Pokemon Go on July 6, it brought a virtual world to life. With Pokemon Go, users can catch Pokemon, battle gym leaders and add to their Pokedex all from their phones – adding a new and exciting dimension to spending time outdoors. While this game raised concerns about entering private property or catching Pokemon in inappropriate locations such as the Arlington Cemetery, its impact on 2016 cannot be ignored.
This is the first time I've been outside in 5 years #PokemonGO pic.twitter.com/TcbB5jrflG

— Amber ? Discko (@amberdiscko) July 10, 2016

13.Kermit
In 2016, a screencap from the movie "Muppets Most Wanted" morphed into a representation of humans confronting their darkest selves. The Internet has captioned the following screencap, from a scene in which Kermit converses with his doppelganger Constantine, with a series of conversations between two versions of one's self.
Me: Aight I'll start studying at 7

Me to me at 7:01- you missed your chance…start at 8 pic.twitter.com/kOW4C34mdX

— Daniel (@MyFavsTrash) November 17, 2016

12.Arthur's Fist
In season four, episode one of the television show "Arthur," Arthur punches his little sister D.W. after she breaks his model airplane. The pure anger captured in a screencap of Arthur's fist captivated meme-makers in 2016. Art student Hannah Hill even used the meme to make a feminist statement.

11.Da'Vonne Rogers
"Big Brother" contestant Da'Vonne Rogers made her mark on the show in 2015, but was the second houseguest evicted. Her honest, cut-and-dry attitude led to her being called back to the show in summer 2016. A clip from her exit in 2015 found its way into the Internet's hands.

10.Ken Bone
A presidential debate isn't the most likely place to find one of 2016's top memes. And yet, with a casual question about energy policy, Kenneth Bone inquired his way into America's hearts. From the red cardigan to the black-rimmed glasses, Ken Bone left his mark on the debate stage–and the country crowned him the true winner of that controversial night.

9.Confused Math Lady
The telenovela "Senhora do Destino" stars actress Renata Sorrah, and her bewildered expressions in a scene from the show led to yet another craze of 2016. The Internet overlaid mathematical symbols on top of Sorrah's confused face, and thus another trend was born.
The confused math lady meme captures your bewilderment at 2016: https://t.co/iCUlA6kIVE pic.twitter.com/mfoRsDB3y1

— The Daily Dot (@dailydot) October 13, 2016

8.Dat Boi
This meme's origins are questionable, stemming from Tumblr users, a Facebook page and a picture of Pac-Man. Regardless of its beginnings, however, it is indisputable that in 2016, a frog rode a unicycle – and the world watched, transfixed.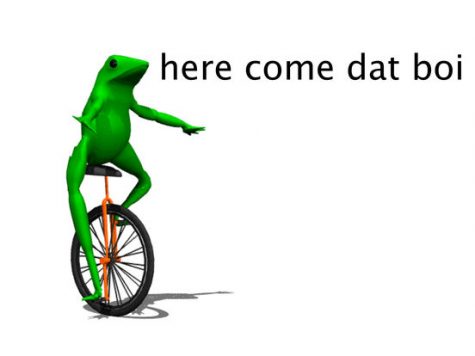 7.Michael Phelps
Just before competing in the 200-meter butterfly semi-final swim race at the 2016 Olympics, Michael Phelps made a face. He made this face as his rival, Chad Le Clos, warmed up in front of him. The Internet had a field day with this face.
When you pour a bowl of cereal and then realize there's no milk. #phelpsface #rio2016 pic.twitter.com/QnA0Qdl0th

— Bobby (@bobbywfrancis) August 9, 2016

6.Damn Daniel
Twitter user @joshholzz tweeted the first "Damn Daniel" video on Feb. 15, complimenting his friend on his clothing–particularly his White Vans. What happened from there needs no introduction.
Damn Daniel pic.twitter.com/Va10hmpePO

— Joshua Holz (@Josholzz) February 16, 2016
5. Smiling Usain Bolt
Michael Phelps' disgruntled expression wasn't the only Internet trend to come out of the 2016 Olympics. As Jamaican runner Usain Bolt crossed the finish line to win gold in the men's 100-meters sprint finals, photographer Cameron Spencer captured his gleeful expression. What ensued?
— visualsbymatthew (@yooomatthew_) August 15, 2016

4. Running Man Challenge
The first instance of the "Running Man" comes from Janet Jackson's "Rhythm Nation" music video choreography from 1986. However, this year, two University of Maryland basketball players revamped the move to the song "My Boo" by Ghost Town DJ's, starting a viral sensation as people attempted the Running Man Challenge across the country.
3. Mannequin Challenge
A group of people freeze in place as a camera pans around the scene, capturing a room full of motionless figures. This is the #MannequinChallenge, and everyone from athletes to celebrities has taken part in it.

2. Harambe
On May 28, a worker at the Cincinnati Zoo shot Harambe, a 17-year-old Western lowland gorilla, after the gorilla grabbed a three-year-old boy in the zoo enclosure. Little did the zoo know that the death of this gorilla would spiral into a nationwide controversy – and a seemingly endless stream of memes.
Me: [gets into heaven]

God: "welcome my good and faithful serv-"

Me: "where's harambe"

— Benjamin A. Vorwerk (@bvorwerk) August 4, 2016

1. 2016 Sucks
Let's face it- 2016 hasn't been the best of years. Countless celebrities, visionaries and icons passed away. The election left many unhappy. Frustrated users took to the Internet to express their exasperation and hopes for a better 2017 (no pressure).
Have we tried unplugging 2016 waiting ten seconds and plugging it back in?

— dongwon (@dongwon) June 24, 2016