Freshman wins National Brain Bee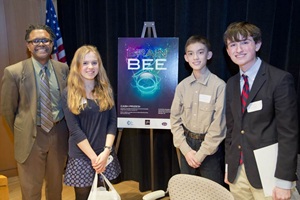 From March 20-22nd, Jefferson freshman Soren Christensen represented the D.C region at the Sixteenth National Brain Bee in Baltimore, Maryland, along with 52 other finalists from different high schools all over the country. After the Q&A process, Christensen was determined the winner.
"I was really excited about winning. I spent so much time working on this competition, and it definitely paid off," Christensen said.
The annual event, which is currently the largest international teen neuroscience competition, was founded by Nobert Mylinski from the University of Maryland to help high-schoolers develop and nurture an interest in neuroscience, and possibly pursue a career in a similar biomedical research.
"I think neuroscience is very fascinating," Christensen said. "It involves the study of our brain, meaning that it's the study of who we are. This includes our emotions, actions, and thoughts."
While the regional test, which took place on February 10th, had featured a free-response format, the national competition used both written and oral tests, with challenging questions on neurohistology, neuroanatomy, MRI, and patient diagnosis. Contestants needed a strong understanding of brain diseases such as Alzheimer's or Parkinson's, addictions, intelligence, emotions,  sensations and other neuroscience trivia. Not only were students tested in a neuroanatomy practical exam with real human brains, but also in face-to-face patient diagnosis with patient actors, and final question-and-answer with judges.
"The hardest part about studying for it was that I needed to handle both the Brain Bee and schoolwork at the same time," Christensen said. "I ended up working on the Brain Bee most of the time for about a month."
Christensen was rewarded for his hard work with a scholarship, a summer scientific laboratory internship from the Society for Neuroscience, and trophies for him and his school. As the winner, Christensen will be representing the US in the International Brain Bee, taking place in Cairns, Australia, on August 21-27. At Cairns, Christensen will compete against up to thirty other high school students from various regions of the globe.
Despite the hardships faced, such as the many hours spent studying and the stress of the competition, the Brain Bee experience had been a meaningful one, Christensen admits.
"It taught me that if there's anything we are passionate about, it's definitely in our reach," Christensen said. " If we put effort into it, we can get a hold of it as long as we don't give up."