They run, they kick, they throw, they win. When we think of sports, the athletes and coaches that are involved in them are the individuals that often come to our minds first. But in order for a season to go off without a hitch, work needs to be done behind the scenes. Enter the athletic managers.
The role of a team athletic manager is to help make sure the team's operation in-game runs as smoothly as possible. In the high-speed high-stress setting of a game, there are many things that need to be completed in order to improve performance, both during the match and in the long run.
"During games for junior varsity and varsity, the athletic managers have to record stats and notes on a lot of things, like shots made or who's playing. Basically we write down how the players do and from that they figure out how to get better in the future," junior and boys lacrosse manager Grace Lee said. "I'll send [the stats] to the coach or sometimes to the players so that they know how they did."
Being a manager requires basic knowledge of the sport, as well as the ability to effectively communicate and work quickly while being attentive and observant.
"[My initial experience] was a bit tricky because I had to learn the ropes. I wasn't very fluent in lacrosse at the time when I started because I wasn't an athlete in that type of way. But in the end I learned the ins-and-outs of the sport. It took me going to the first couple games, asking the coaches questions, observing the referees call score, looking at the scoreboard, and working with friends," junior and girls lacrosse manager Pishoy Elias said.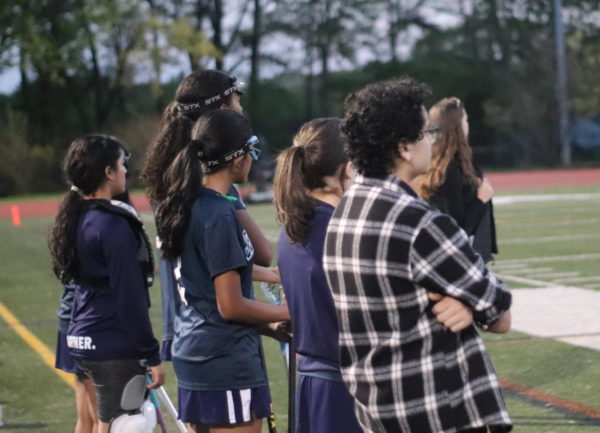 In addition to keeping track during games, the athletic managers also help with planning events for the team.
"I helped organize things like the team senior night. Organizing events for me usually entails meeting up with our athletic director, Mr. Forshay, and figuring out logistics. I would also text the team group chat and ask for their opinions of certain things. For example, during our senior night we had to base our events on what the team wanted, and I had the help of Mr. Forshay when doing this too," Elias said.
Sometimes when the game is going on, emotions can flare. The managers aren't exempt from such feelings, and while they go about doing their assigned tasks, they may become absorbed into the game itself.
"I don't know how to describe it completely. But obviously we want our team to win. So when we don't score for a while or the other team scores, we will say 'Oh, I really hope that we can do better.' And then when they score a goal then it's just pretty happy," Lee said.
When asked about their experience managing the team, the managers replied that though it could be challenging at times, it was a fun and rewarding time.
"I have had a lot of fun being friends with people on the team and becoming part of this really nice community of athletes. I've also learned to sort of manage my time well or better, because although I wasn't an athlete, then or now I have been going to the majority of games so I know that it's much more important," Elias said.
From the May 2023 Issue of tjTODAY
Story continues below advertisement