Crew recovers from from lack of training due to COVID-19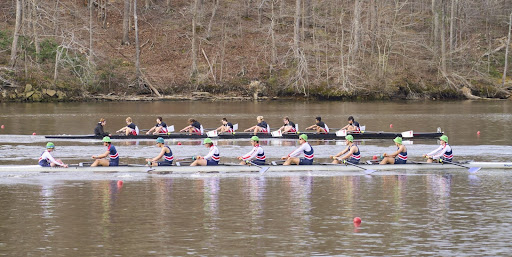 Jefferson's crew placed well in a regatta last weekend against McLean and other high schools after facing setbacks due to COVID. The men's crew team came in first place for a few races while the women's varsity team added some freshman rowers to their ranks.
Earlier this year, Jefferson was hit by some severe waves of the Omicron variant and this affected much of the schools sports program as many students were pulled out of class each day because of close contact tracing. This wave was particularly disrupting to Jefferson's crew training. 
"We actually had like six weeks off of training because of COVID when there was a huge peak at TJ [Jefferson]. Furthermore, we had some weeks off in the middle where we started online training. Since many people don't have rowing machines, they had to supplement rowing with running or biking," Jefferson crew captain Onur Gunduz said.
While Jefferson teams had to stall their training, some other schools still maintained their training. This gave them the advantage on the water.
"I think our biggest competitor [at the regatta] was McLean High School, and they've been doing training year round while we actually had six weeks off of training because of COVID," Gunduz said. 
Despite the lapse in training, Jefferson still managed to place decently in the recent regattas.
"We got first place in the first two races and the race after that, we caught what's called a crab, which is where your oar gets stuck in the water and you can't pull it out easily. So we came to an almost complete stop for a second and usually once you get one of those, you're gonna lose, but we actually were able to come back from that and put the power back on," Gunduz said.
The regatta was also a big one for the team for another reason as novice freshman rowers were bumped up to the Varsity team for their first race after just a few months of practice.
"I've been rowing for two months before the tournament so I think [getting moved to Varsity] was due to my friend and I learning quickly and having a lot of strength. It's also because some of the coaches just felt like we'd do well in varsity," freshman Maya Escobar said.
The results of this regatta, despite not being superb, are still impressive considering the lack of training this year. 
"I'm very proud of both our results and our individual efforts because the biggest thing is this is like a mental sport, what really makes one person win one person lose is really the mentality, the confidence you have in yourself to push yourself forward," Gunduz said.