Jefferson Men's Crew Faces Minor Setbacks on the Water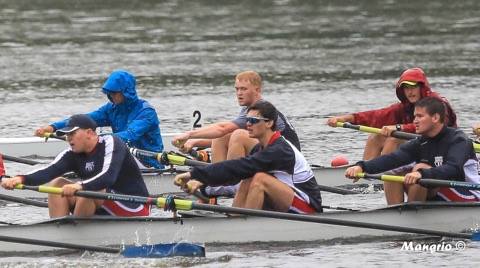 Jefferson's Men's Crew varsity boats have had an eventful past two months in their weekly local regattas.  The varsity team started off placing mostly first and second in weekly regattas, and by the first month of crew season, things looked bright for the team. However, in past weeks, the team has faced minor setbacks. They moved from placing in the the top three, to the top six. Moving back a couple places seems like a minor setback, but it definitely places significant pressures on the team in light of the upcoming states regatta and qualifying round for nationals.
The regatta at Sandy Run Regional Park on April 29 marked the last local race before the culminating state competition in two weeks. At the past regatta, the men's 1V placed 6th, the men's 2V placed 5th, and the men's Jr placed 4th.
Junior Pranav Avasarala said "We actually didn't do that well this weekend because there were teams that got surprisingly speedy over the past couple weeks." Despite placing at the past regatta, the team worries that their performance has declined, and that they must pick up the pace over the next few weeks in order to uphold the tradition of going to nationals every year.
 "We plan on working hard these next two weeks to qualify for nationals at the state championship. Facing these setbacks just motivates us to work harder during practice during the upcoming weeks," Avasarala said.
The next weeks will undoubtedly be tough for the the team. Not only must they shave a couple seconds off their time to prepare for the statewide regatta, but prepare for multiple AP exams and finals. However, team members are supported by their fellow comrades during these academically stressful times. Members comment that the rest of the team is not only essential to keep the boat moving, but to motivating each other to work harder, both on the sport and in the classroom.
"Crew practice gives us the discipline necessary to go home after practice and finish homework without procrastination, and the team members are always willing to help each other academically. At the past regatta, a few people brought AP review books, and there was a large group huddled around studying for the upcoming exam," Avasarala said.