Science Olympiad places second in states by one point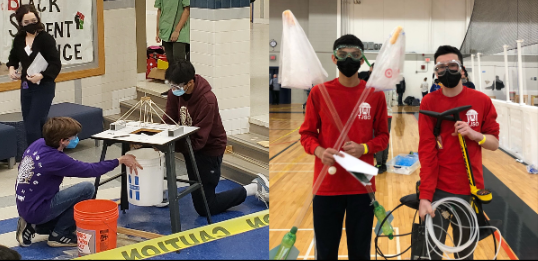 Science Olympiad placed second overall in states, which was their first in-person competition since 2020. They placed second to Lake Braddock Secondary School—this will be Lake Braddock's first time attending Nationals. 
"Science Olympiad is a club that consists of usually 23 events in a normal year, and those events range from things like cryptography to earth sciences to forensics and everything in between," publicist Emma Cox said. "Each person usually gets three to four events with one to two partners in each event, and they compete in written tests, lab portions, or they test devices that they've built outside of the competition." 
The states tournament was held in-person at University of Virginia (UVA) on Mar. 26, and the results were announced online on Mar. 30. With a total of 112 points, Jefferson placed second by a single point to Lake Braddock, who had a total of 111. 
"Unfortunately, we were only second place by one point, so we didn't get a chance to go to Nationals this year, which is disappointing," Cox said. "But I think that everybody really did their best and put their all into it." 
Many things contributed to Jefferson's placing second in the tournament, including the effort students put into studying new topics and building prototypes for events many of them have never seen before. The transition between online to in-person competitions also had an impact on the team's ability to compete. 
"A lot of people were on new events and we had a lot of underclassmen competing in states," Cox said. "It was [also] a struggle transitioning from online to in-person. Last year, we were able to do a lot more tournaments because most of them were online, but this year, a lot of them were something called satellite tournaments where we had to come to TJ, so it was a struggle to schedule space."
Despite all this, Cox looks forward to competing again next year and participating in more in-person competitions. 
"I think we should be able to do more tournaments next year, and it would be fun to do more away tournaments. I think that we'll be more prepared next year because of the in-person tournaments," Cox said. "Everyone is really proud of how we did, and we really pulled through as a team this year."