White day in bloom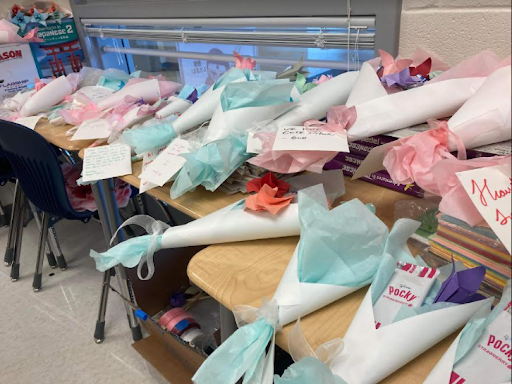 Exactly one month after Valentine's Day in Japan is known as White Day. On this special day, people who received gifts on February 14th return the favor. To celebrate, TJ's own JNHS (Japanese National Honor Society) decided to hold a bake sale during lunch from March 8th to the 11th. 
"After our Oshogatsu festival back in December for winter break we had a lot of pockys and other snack items. So we had the idea of having a bake sale or I guess a snack sale." senior Rachel Kwon said. 
The sale followed the same format as the Valentine's Day RoseGrams sale where you could purchase the Pockys wrapped in a bouquet of origami flowers and send it to a special someone, or even buy it for yourself.
"We knew that we wanted bouquets like Pocky bouquets with origami flowers. So a few weeks before our sale we were looking into different flowers that we could use. I know we were playing with the idea of origami cherry blossoms." Kwon said. 
JNHS wanted to make the sale special and decide on a specific holiday to do it for. There wasn't enough time to do it for Valentine's Day, but luckily Japan celebrates a flipped version of the beloved holiday known as White Day. 
"We're thinking about the different holidays in Japan around this time of year. Were like, okay, by the time we were planning this Valentine's Day was way too soon, but we knew that there was a holiday called White Day in Japan, which is basically reverse Valentine's Day" Kwon said.
In Japan and other East Asian countries, on Valentine's day women give chocolates to the men that they care for. As a way of saying thank you, in return exactly one month later on March 14, dubbed White Day, men give treats back to the women whom they received sweets from. Traditionally, they only give each other sweets rather than gifts.
"You give gifts back to people that gave something to you on Valentines and it's March 14 which is a great time." Kwon said.
The multi-day sale had its busy days along with its low days. They sold out of Pockys by the third day and overall, it was a big success. Depending on the leadership, it could potentially be something that we see again next year. 
"I think that with how successful it went, it would be pretty nice to have it next year." Kwon said.