Colonials win dramatic season opener against Centurions in overtime
The Jefferson football team beat the Northern Virginia Homeschool Athletic Association (NVHAA) Centurions 18-12 in overtime in the first game of the season on Friday, Sept. 3.
The win means a great deal to the Colonials, who have lost to the Centurions for the last three years. 
"This was one of the most important games of the season due to our history with them. Ever since the end of last season, beating the Centurions was a goal [that] the whole team worked towards," junior running back Justin Yoo (7) said.
The Colonials began poorly, conceding a 77-yard punt return to fall behind 6-0 with eight minutes to go in the first quarter. However, they quickly responded, tying the game 6-6 thanks to a well executed handoff to junior running back Christian Min (2) less than a minute later.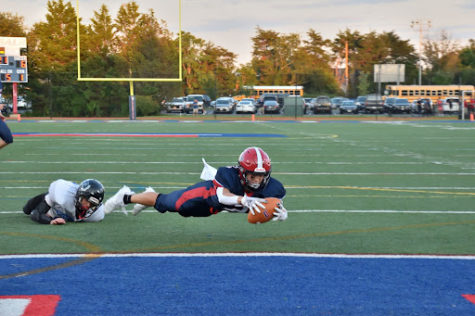 The second quarter was a slump for both teams, as a solid defense on both sides prevented any changes to the scoreboard as the game headed into halftime. 
However, the Centurions played better after the break and scored a quick touchdown to regain the lead. 
"Even when we were losing, I was really confident that we were going to win because we put in so much effort in the offseason," Yoo said. 
Their efforts paid off when wide receiver Charan Sattaraju (1) leapt high above three Centurions in the end zone to complete a 32 yard pass by quarterback Gavin Hatalosky (15).  The score stayed locked at 12-12 as the clock wound down in the fourth quarter. 
The Colonials defense made several massive plays near the end of the game. They first forced the Centurions into a fumble inches from the end zone with seconds left in regulation (before overtime), then prevented them from scoring in the first overtime drive. 
This set up the game winning play from Yoo: a six yard carry on second down to score. He was soon mobbed by his teammates, and students celebrated wildly in the stands. Yoo cited the enthusiastic home support as a major factor in the win.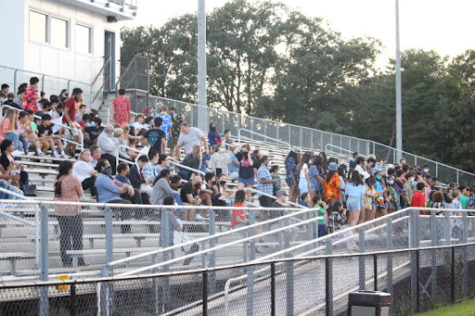 "[The crowd] definitely helped the team, because it brought a lot of energy to us when we were tired; We knew we had fans to play for. We just couldn't give up," Yoo said. 
Although the Colonials suffered many setbacks during the comeback victory, including injuries and poor plays, the win gave faith to the players and fans that the team has a bright season ahead. 
"If we keep this energy and we keep learning and improving, we're unstoppable," sophomore wide receiver Ayaan Siddiqui said.