Colonials lose to Centurions on senior night: Game Recap
The Jefferson varsity football team lost to the Northern Virginia Homeschool Athletic Association (NVHAA) Centurions 14-6 at home on Friday, Mar. 26, which was also senior night. 
The game drew in a much larger than normal crowd on the Colonial side, which sophomore wide receiver and defensive back Charan Sattiraju (1) appreciated. 
"Since it was senior night, there was a much larger attendance at the game compared to our previous games which motivated us, and the crowd noise really helped when we were on defense," Sattiraju said. 
The Colonials kicked off to initiate the game. The first quarter was a back and forth between the teams, as both were able to make substantive drives. However, the quarter was largely a defensive showcase with the Centurions having two interceptions and the Colonials having a fumble recovered by linebacker James Kennedy (55). The first quarter ended with both teams unable to put up points on the board. 
In the second quarter, a handoff to Colonial running back Niko Economos (5) resulted in a touchdown. Following the touchdown, the Colonials attempted a 2-point conversion but it fell short. The remainder of the second quarter mirrored the first, ending with the Colonials leading 6-0.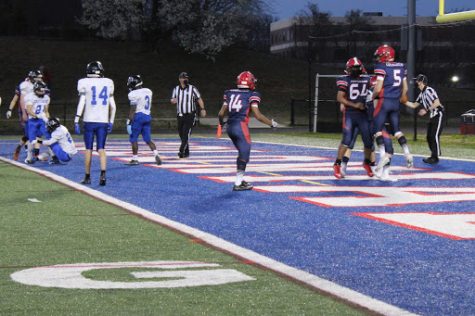 The Centurions were able to finally score a touchdown in the third quarter, though the touchdown drive resulted in an injury for Colonial linebacker Caden Phillips (44), who limped off the field. Unlike the Colonials, who tried for a 2-point conversion following their touchdown, the Centurions chose to attempt a field goal, which their kicker was able to make. This gave the Centurions a 7-6 lead with 4 minutes left in the third quarter. In the subsequent Colonial possession, the Centurions were able to intercept a pass and score another touchdown, in addition to another field goal. This gave the Centurions a lead of 14-6 to end the third quarter. 
Injuries plagued the fourth quarter for both teams. On a punt by the Colonials, defensive back Sumanth Kalluru (19) suffered a hard hit and walked off the field, obviously in pain. However, a few minutes later, a Centurion player hit the ground with a much more serious injury.

This delayed the game for several minutes as an ambulance had to come pick him up. Neither team scored in the fourth quarter; the Centurions won the game 14-6.  
Economos believes that the Colonials didn't lose due to a lack of effort by any members of the team. 
"It was just minor mistakes like the penalties and interceptions that cost us the win," Economos said. 
The Colonials will be playing the last game of the season against the Central Maryland Crusaders on April 9th, 7pm at Jefferson.