Jefferson football practices kick off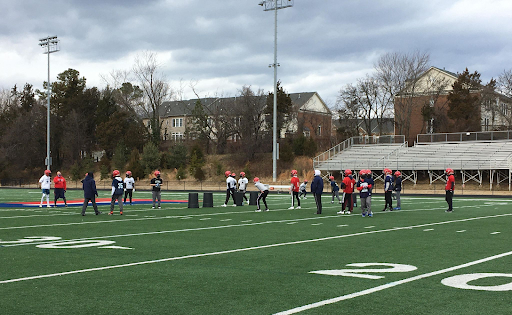 The Jefferson Football Team started officially practicing last week, although due to the ongoing pandemic, there are multiple COVID-19 regulations in place. 
To start off practice, the team goes inside the school briefly to put on their gear for the day. Then, they do warm up exercises, such as jumping jacks and shuffling, to get ready to go. The first half of practice after the warm up is dedicated to drills for players on the offensive lineup, such as the quarterback and receivers, while the second half is for the defensive lineup, which includes the linebackers and cornerbacks. 
"At the end of practice, we stretch as a team and the stretching is led by seniors players, which helps with team bonding," freshman Hardeep Mann said. 
In terms of COVID-19 regulations, the team follows a similar format to other Jefferson teams when it comes to checking player temperatures before practice. 
"There is a station set up before we enter practice where we roll our car window down and get our temperature checked before we are allowed to step on the field," freshman Jackie Carson said.
Social distancing measures are generally hard to implement with most sports, especially football, due to how close players are to each other. However, contact is avoided whenever possible.
"People are spread out when we're doing exercises and stretches as much as possible but it's extremely tough to social distance when actually playing, like wrestling on the line," Carson said. 
Furthermore, helmets, footballs, shoulder pads, and other player equipment are sanitized every night to make sure they are clean and disinfected for practice the next day.  
"With gear, it is sanitized every night and it's pretty clean so I feel safe in the gear," Carson said.
Masks have become a topic of concern for Jefferson athletes, as they must be worn for the entire practice. This gets tricky with a high intensity sport such as football, since having to wear a mask can make it extremely difficult to breathe, which puts students with conditions such as asthma at risk.
"It definitely gets really hard to breathe, but the coaches are always careful and considerate enough to never make us do anything that we don't feel like doing," Mann said. 
All in all, Mann and Carson both agree that the Jefferson Football program is doing a fantastic job at making sure that students feel safe at practice.
"I'm really appreciative of our coaching staff for implementing strict [COVID-19] guidelines as I have never felt unsafe at practice," Mann said.