Jefferson Girls Varsity Basketball wins against Lewis Lancers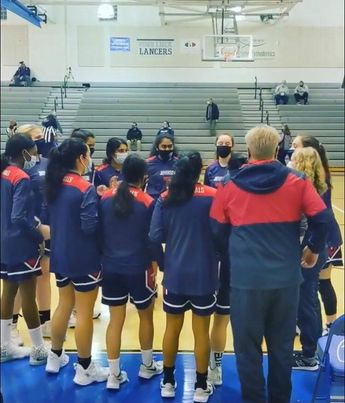 Jefferson's Girls Varsity Basketball team won a home game against the John R. Lewis Lancers on Friday, Jan. 29 by a score of 53-45. It was their second-to-last game of the season.
"The game was really exciting, because we were neck and neck for most of it," post player and sophomore Emma Cox said.
The Colonials were behind by two points after the second period. However, they were able to bring up their points and grab the lead in the second half.
"In the third quarter, [the Lancers] didn't score many points because we played really defensively," Cox said.
After this win, the team is determined to win their next and final game against Falls Church High School on Wednesday, Feb. 3.
"We've been working so hard and we've gotten so much better than when we first started," guard and sophomore Elisabeth Everhart said. "It would be great to end the season with a win."
Despite the difficult circumstances, the players are satisfied with the season, for more reasons than just wins and losses.
"The season has been really great," Everhart said. "I got to know all the great people on the team. When you train together, you're also winning together."
The team is grateful not only for their successes, but also for those that helped them achieve the wins along the way.
"I'm really glad that our coaches are so great," Cox said. "They spend so much time with us, making us a better team."