Anglers' Alliance club hosts presentation on catfishing
In a play on words, Anglers' Alliance hosted a presentation on catfishing on Feb. 24 during A block. Journalist Asra Nomani, parent of club officer and senior Shibli Nomani, presented on the subject, citing her experience with combatting catfish in her line of work.
"At Anglers' Alliance, we tackle issues relevant to the community. Even though we believe that not enough people know how to fish these days, we also believe that there are bigger fish to fry," club president and senior James Ye said. "It's important for students to know how to make smart decisions, to know how to protect themselves and their information online, and to be careful when surfing the net."
The presentation drew over 100 students, who came not fully knowing whether it would be on actual fishing or online catfishing. 
"I thought it was really funny when even the introduction had photos of actual catfish in Christmas hats and more truly wacky commentary prior to allowing Ms. Nomani to give her presentation,"  junior Edward Lee said." It became even more amusing when I realized that she was not actually presenting about the fish, but internet catfishing, and it all made sense from then on."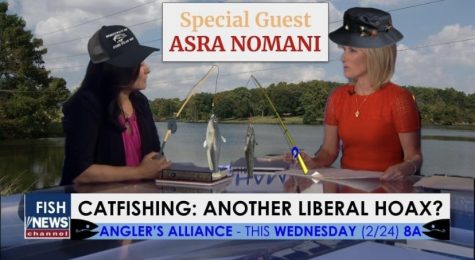 Ms. Nomani used her experience in filing a lawsuit against her own catfish to help students better understand how catfishing works. 
"I asked for [the catfishers] IP addresses, their unique cookie codes, their login data. This is all like how do they swim on land, how do they move about login IP addresses. Nothing is secret on the internet. As you know, every move, whether you're a fish or a human being can be tracked," Nomani said.
Keeping in line with the club's theme, Ms. Nomani used actual fishing metaphors to explain how to prevent being catfished, along with what actions to take if one is catfished. 
"You just try and keep working and that's why persistence is so important. Just like fishing, right, like you don't catch a fish within the first five minutes, you have to sit there patiently," Nomani said. 
Through the use of humor mixed with information, the presentation was able to convey its message in a way that was personable to the students. 
"I actually found Nomani's presentation on catfishing to be pretty interesting, and I wasn't aware of how easily people's internet behavior could be tracked," Lee said. 
With the success of this meeting, Anglers' Alliance hopes to continue having meetings such as this one in order to keep students educated. 
"We hope to provide meaningful experiences to TJ Anglers by balancing professional guest speakers and youth-led presentations. There's plenty of fish in the sea, but it doesn't mean anything if you don't know how to fish. And Angler's Alliance will be there to teach you how," Ye said. 
Newcomers to the club appreciated its different way of advertising itself, along with its method of teaching students new information. 
"The meeting was the greatest advertisement for a club I had ever seen. Instead of the tried-and-true method of fun social events, during normal school years, hosted by clubs to get more members, Anglers' Alliance invited students to a super unique event with a seemingly unrelated guest and pulled it off in spectacular fashion, " Lee said.