Students build robot to participate in FIRST Robotics Competition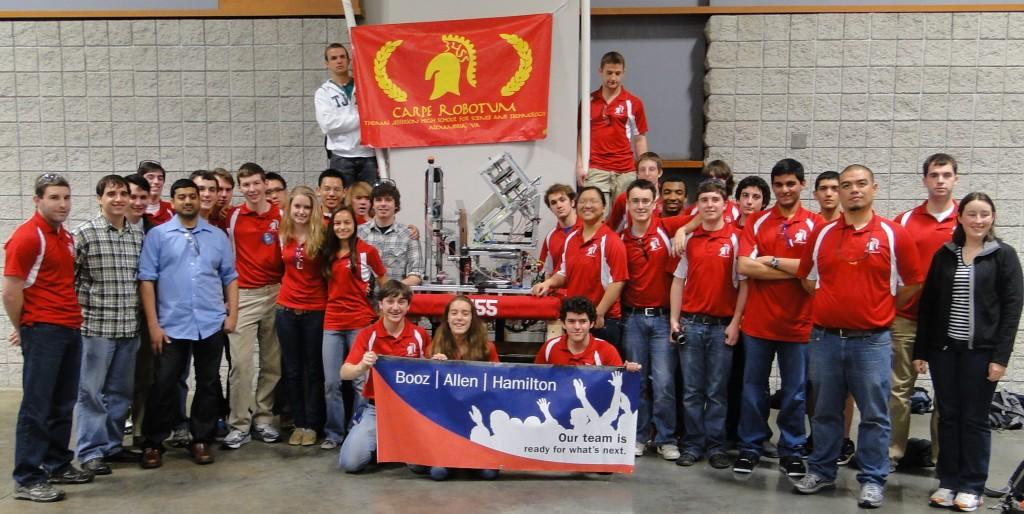 After hours of working each morning and afternoon every day for six weeks, the TJ FIRST Robotics Team finally completed their robot, named "Kareem Abdul Ja-Bot," in honor of the basketball-like competition.
On March 17 in Richmond and again on March 31 in the D.C. Regional, "Kareem" competed with other area robots.
The seniors working on this project are members of the Robotics and Prototyping senior research labs in first and second periods, and have devoted class-time, 8th periods, after-school time, and Saturdays to working on this robot.
"It's a challenging team effort that requires hours of vigilant work," said senior Doug Hearney.
In preparation for the competition, seniors did research on competitions from past years. They completed background research on different subsystems, and then applied the knowledge to a mock build season in which they were allotted six weeks to build a robot for the 2010 competition.
"After the mock season, we learned that we needed to plan ahead and stay on schedule for the actual competition," said senior Lydia Hylton.
The FIRST Robotics Competition encourages cooperation among participants, thus the term "coopertition."
"The most exciting moment from the competition for me was when two opposing teams would balance on the Coopertition Bridge just as the buzzer went off," said senior Richard Kuzma.