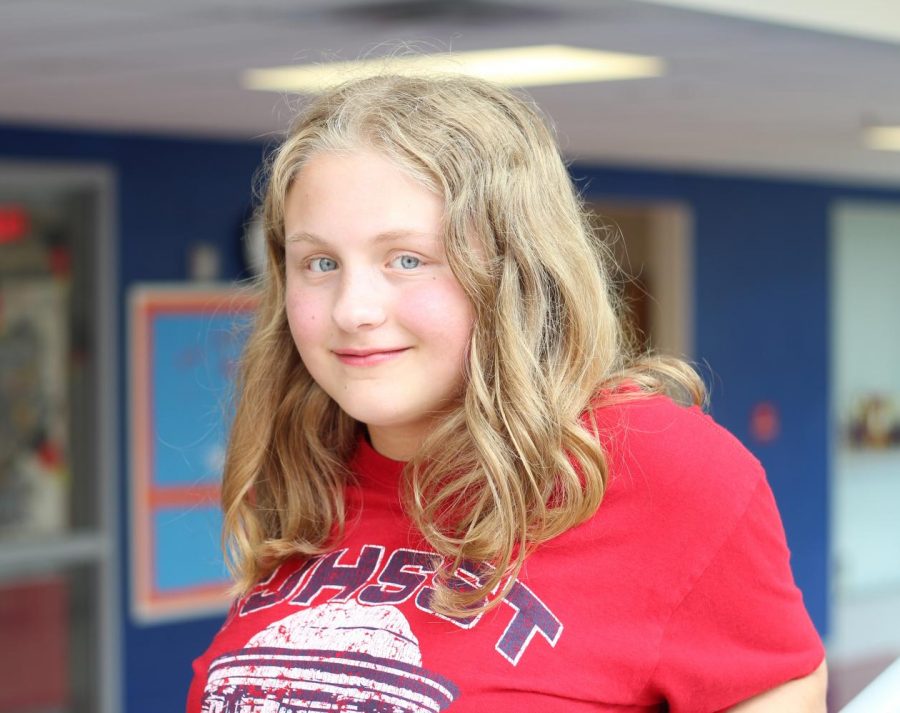 The writing journey all started when her brother created two fish characters with his hands. From short stories of those fish going to Mexico, to an actual novel about her classmates stranded on a deserted island, that she published online via Amazon, freshman Claire Wilson dove into the world of writing ever since she was little. Claire Wilson is not just a writer, but a journaler at heart; she started in fourth grade and has plowed through one, two, and now three journals since then.
"I was going through the TJ admissions testing, and I would always map out my schedule, or whatever. I had this thing called Chart Time [where I kept track of what everything meant.]"
It was an instantaneous decision when she checked off "Journalism" as her freshman elective this year.
"It definitely all started when I wrote short stories of the fish characters my brother created when I was little. I wrote a story, then wrote another story about them going to Mexico. We also had this machine that allowed you to turn them into actual books. So I had these actual books, and I drew pictures, but we're not going to talk about the pictures."
Claire's specialty is creative writing; this year will be her first time diving into journalism. Looking forward, she sees herself continuing taking this opportunity to just write, write and write.
Claire Wilson, Staff Writer
Dec 16, 2020

Racing to stay ahead

(Story)

Oct 12, 2020

FCPS school board votes to change Jefferson admissions process

(Story)

Mar 06, 2020

A changing school, a constant teacher

(Story/Media)

Dec 18, 2019

Junior varsity boys basketball loses home opener to Annandale

(Story)

Nov 02, 2019

TJ Minds Matter hosts Fall Festival

(Story/Media)

Oct 15, 2019

Freshmen are not taking the PSAT this year

(Story/Media)

May 29, 2019

What's in our name

(Story)

May 28, 2019

Jefferson tennis teams win regional championships

(Story)

May 10, 2019

Class of 2022's Freshman Lock-in is the Last One

(Story)

Apr 02, 2019
Mar 24, 2019

Five Feet Apart: Bringing Tears to All Our Eyes

(Story)

Mar 10, 2019

Maren Morris Returns to Country with New Album, "GIRL"

(Story)

Mar 03, 2019

Music to Our Ears

(Story/Media)

Feb 14, 2019

Seven simple questions will tell us what kind of person you are in a relationship

(Story)

Feb 09, 2019

In Defense of Pineapple on Pizza

(Story/Media)

Jan 31, 2019

Apple Shuts Down Group FaceTime to Address Bug

(Story)

Jan 30, 2019

Delays vs. Early Releases: Two Hours Mean Everything

(Story/Media)

Jan 18, 2019

Winter Weather Driving Hacks

(Story)

Jan 09, 2019

Top 8 of 2018: USA Olympic Moments

(Story)

Dec 14, 2018

There and Back, Again and Again

(Story/Media)

Nov 11, 2018

Loudoun Doesn't Need Two to Tango, Must Decide between Academies and Jefferson

(Story)

Oct 10, 2018

ScreenAgers Documentary Exposes Screen Addiction

(Story)