Freshmen are not taking the PSAT this year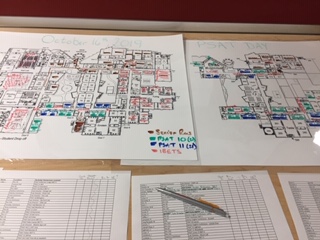 Unlike past freshman classes, Jefferson's Class of 2023 will not be taking the PSAT with Classes of 2022 and 2021 on Wednesday, Oct. 16. 
For the past five years, all freshmen in FCPS have been permitted to take the PSAT at no cost. However, as of this school year, they will no longer be scheduled to take the test. 
"[All accommodations] had to be officially approved through the CollegeBoard, which is a six-week process, and that had to be finished by the end of August, shortly after we're back on contract," Jefferson testing coordinator Leslie Barnhart said. 
The decision to not provide the PSAT is in part due to a county-wide effort to eliminate excessive standardized testing, such as requiring fewer SOLs for graduation. Since the PSAT 8/9 and the PSAT 10/11 are both official practice tests, not offering the PSAT 8/9 was an appealing decision to further this effort. 
"Especially for [Jefferson students], how many times do you need to take a practice test before you're ready," Barnhart said. "You don't need to take the [PSAT] 8/9 and then the [PSAT] 10/11. That's over-testing. There's no point to it."
While the sophomores and juniors take the PSAT, the freshmen and seniors will be doing other activities that don't involve standardized testing. The research labs will be available to seniors to work on their senior research projects. Several senior English teachers will also be meeting with students to work on their college application essays. On the other hand, the freshmen have a more structured day in store for them. 
"They have a 30 or 45-minute presentation from their counselors, all the IBETs are doing that," stream team IBET biology teacher Kathleen Morrow said. "They have specific things that they'll be working on."
In addition to these presentations, each IBET has planned different activities for their freshmen, such as working on their IBET project proposals or doing icebreakers to get to know their peers better. 
"I think they'll get a lot more out of just spending time getting to know their peers and working on these research projects which are incredibly valuable from that critical thinking, creative thinking perspective," Morrow said. 
While not many parents have expressed concern about this change, some students believe that taking the PSAT would be a better use of their time. 
"Taking the PSAT would help us start preparing early for the SAT and show us how much we know and what we need to work on," freshman Megan Enochs said.