"An Astronaut's Guide" eclipses previous space literature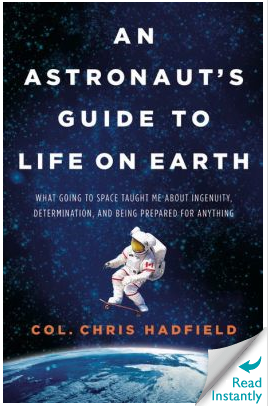 The first time many children hear the word astronaut, it's during an elementary school project, or in the aftermath of a space expedition.  However, if children miss out on the windows for scarce opportunities like these, chances are they'll grow up with a series of misconceptions about the small population that lives outside Earth's atmosphere.
Ex-Commander of the International Space Station (ISS) Chris Hadfield sets out to change that fact in his striking new release, "An Astronaut's Guide to Life on Earth." The semi-autobiographical novel, which came out on Oct. 29, follows Hadfield's career, intertwining those events with words of wisdom clearly meant for a wide audience.
For anyone active on social networking sites, however, this is likely not their first encounter with Hadfield. The Canadian astronaut has become a Twitter and YouTube celebrity, currently resting at just under a million followers on Twitter, where he posted almost daily photos from the ISS. His rendition of David Bowie's "Space Oddity" garnered millions of views within days of going online, and now has over 18 million views.
Now, in his book, Hadfield launches his celebrity to a whole new level. His advice? "Prepare for the worst and hope for the best," "Think Positive" and most strikingly, "Aim to be a Zero." While those charges may counter the popular and glamorized lyrics of celebrities and pop stars, they should be anything but dismissed.
In particular, Hadfield's advice to "aim to be a zero" is a breath of fresh air among the other dog-eat-dog advice in the world, and far from encouraging mediocrity, establishes a path to success that avoids many of the pitfalls of all-encompassing modern competition. It is advice that can and does apply to both those who are moving steadily towards their goals and those who feel a need for change.
Hadfield's experiences as a member of Expedition 35, from the famous emergency spacewalk and extravehicular activity (EVA) tearing incidents, to lesser known traditions in "Star City" and  on board the ISS,  serve to, rather than isolate his audience, bring himself a little closer to home.
The skateboarding astronaut on the cover art doesn't misrepresent Hadfield's tone, either. Hadfield's goal of grounding the reality of space exploration to an every-day level on the surface of Earth isn't just met—it's far exceeded.  In the same way his YouTube videos give a visual representation of the daily trials of life in microgravity, "An Astronaut's Guide" sketches a mental picture of the kind of people who represent us from space.
While other autobiographical books by astronauts have emerged in the past years among the plethora of nonfiction publications, Hadfield's book has skyrocketed beyond them in acclaim, helping him to reach children and adults of all education levels. Hadfield is slated to write a sequel to "An Astronaut's Guide," however its release date has not been publicized.
Despite being a book that focuses on the experiences of astronauts—a select group of people most of us will likely never join—"An Astronaut's Guide to Life on Earth" is just that: a pared down collection of the most extraordinary and phantasmagorical experiences known to man set out of prove how, in essence, they're not that different from what we see on Earth.