As the students branched off from the usual hubbub of official plays with provided scripts and dialogues, excitement filled the room. Ideas were buzzing as designers worked through bringing the endless words on paper into a larger-than-life performance.
From Oct. 5 to 7, Jefferson Theatre Arts (TJTA) presented their annual one acts.  Written and directed by students, the five twenty-minute plays created an environment of independence and creativity among TJTA.
"I think the fact that you could write and direct them was really special," senior Riva Jain said. "I think that each student working on a one act has a really specific connection to that one act, and it's really nice."
Junior Ella Tysse, the author of the one act "Callback," found that the production of the one act plays fostered a high level of engagement within TJTA.
"The shows offer a lot of unique opportunities. The students got to see them from start to finish," Tysse said. "Bigger musicals and plays are really fun and high energy, but it's different when you actually create the play instead of getting it from somewhere."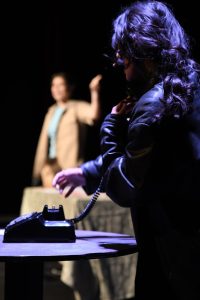 This involvement with one acts didn't only apply to students in the theater classes, but also eighth period members. 
"We have a system set up, [where] if you come for eighth periods, you'll always get to do something," Jain said. "A lot of the work you're seeing on stage is [by] people who are just coming during eighth periods. The final stretch of the show wouldn't be completed at all if it wasn't for them."
Sophomore Prajeet Chitty agrees that eighth period members play a large role in production.
"I'm not in a class myself, actually," Chitty said. "I mainly come in during eighth periods and now after school for rehearsals since I'm actually acting, but most of the production I do is done in the eighth periods."
Although the one acts may seem less intensive than longer plays, they still bring their own unique challenges.
"These teams are smaller, so we had to completely redesign how we do some things," Jain said. 
The shorter time frame provided to get production up and running also adds to the nuances of bringing these smaller plays to life.
"In this show particularly, communication has been more of an issue than it usually is. We've only been rehearsing for five weeks," Tysse said.
Despite these obstacles, the unique process of directing and playwriting provided a new perspective on running a play.
"It's been interesting to see how I've taken something [and] put it on a stage. Other people have made it much bigger than I thought it would ever be, and they've taken it in so many different directions," Tysse said. "I've loved being able to see how a play can grow and evolve during the directing process."
Story continues below advertisement