With soaring turnouts during homecoming, Jefferson students are known for their school spirit. While the scoreboard may say "0-62" the crowd never stops chanting, "I believe that we will win."
The chaotic atmosphere of these football games is coupled with the unique melodies and harmonies of the marching band. As the percussion section establishes the rhythmic beat for the foundation of the ever-growing layers of music, the harmony sung by the saxophones, trombones, and French horns coexist with the unforgettable melody of the flutes, clarinets, and trumpets. While our ears hear a tale, our eyes see a story, painted by the color guard, displaying emotion with every flip and turn. The crowd watches an impeccable performance by the Thomas Jefferson Marching Colonials (TJMC).  
TJMC has been practicing for their performances since the end of summer and participated in various events throughout the season. 
"We have gone to two competitions: Woodgrove and Herndon," senior drum major Hannah Bang said. "In the Herndon competition, we placed first in our class, swept all caption awards, and got fourth overall. For Woodgrove, we got first in our class, swept all captions except visual, and got first overall." 
Although these are major accomplishments, the extent of their awards might not be fully understood by the Jefferson student body, as most students are unfamiliar with musical terminology.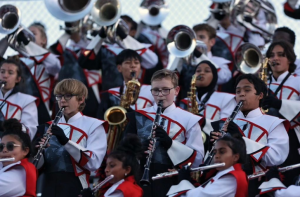 "In Herndon, we won all captions," junior John Yao said. "Captions are special words for a certain section. Maybe you have the best woodwind caption or best color guard, and we won all of them at Herndon, [which] was pretty cool." 
However, the season is not over for the marching band just yet, with competitions all over the state. 
"We have three competitions left: Woodson, Maryland, and Liberty," Bang said. "We're all really looking forward to Liberty because it's our final competition of the season, acts as the state championships, and we get to sleep overnight at a hotel." 
The Colonials' competitions don't end there, with multiple more competitions, including one out-of-state. 
"The two big ones are our Bands of America regionals which is going to be at University of Maryland," senior Arthur Prudius said. "It always has some very good bands from across the East Coast that compete there. We're very excited to go and compete against them. Our final competition is the VMBC [Virginia Marching Band Cooperative Advisory Board] championships at Liberty University. For those two competitions, the BOA [Bands of America] regional will be in two weeks, and the VMBC championships will be in three."
TJMC has been on a winning streak due to the members who devote three hours per day after school and two mornings playing throughout Jefferson's hallways per week. Even though the marching band season seems hectic, Jefferson students are able to manage their time wisely while doing the things they love. 
"In reality, these weekend competitions do not take as much time as it may seem," Prudius said. "Yes, we have a competition all of Saturday, but 'all of Saturday' really means starting at four o'clock and having downtime on the transit there and back."
On competition weeks, students find unique ways to get their homework done. 
"The way [you do it] is to maximize all of the small bits of time you have," Yao said. "For example, if you're on the bus to the competition, you should be working. You know if you have time, like on the bus going to school, you should be working at stuff like that. Just optimize all your little bits of time." 
The stress and adrenaline that come from the continuous marching band wins prove to unite TJMC as a wholesome community where students thrive. 
"My favorite part about TJMC is the different kind of energy you feel at competitions," Bang said. "The moment you get there, it's a rush to unload equipment trucks, put on uniforms, then get into lines for warm-up. Everyone's really focused and intense and it makes you feel like you're part of something special."
Bang comments on the emotions marching colonials feel at competitions as well.
"It's a huge adrenaline rush to be in front of a crowd performing in contrast to football games with small crowds or during rehearsals with no crowd. Out of everything, nothing beats award ceremonies at the end of the day where drum majors get to salute to the audience and show off our new trophies." 
Story continues below advertisement