Jazz Band and Swing Dance Team host Valentine's dance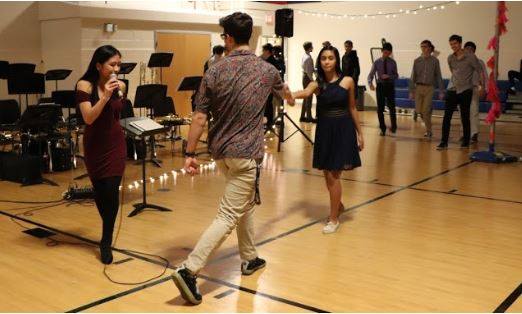 Members of Jefferson's Jazz Band and Swing Dance Team hosted the second annual Swingin' Valentine's Dance, which was held on Feb. 14, 2020.
Co-presidents of the Band Council Sophia Uy and Ryan Zhou helped plan the logistics for the decor, snacks, publicity, and more. 
"This is kind of my first time being involved in this type of planning and it's been very interesting. I didn't realize the magnitude of what we're planning and everything that needs to happen here," Uy said.
The event included live music, desserts, and dancing. Junior Niko Economos was among those on the Swing Dance Team that helped teach attendees dance moves.
"We just come in and and try to show a few moves for partner dancing…just to make it a little more fun," Economos said. 
The dance was created last year when seniors in the jazz band wanted to put together an event on Valentines Day.
"It was like February 1, there was no real dance for Valentine's Day and a three day weekend coming up. So we planned this two weeks beforehand, and that's kind of what we threw together," Zhou said.
This dance is held with the intent of simply giving people a fun experience.
"The way I see it, [with] Valentine's Day there tends to be this huge idea that you have to find your one true love or something," Uy said. "At the Valentine's dance, everyone is just there to have a good time."
The organizers considered adding an admission fee, but decided against it.
"The aim of this is not necessarily to be a fundraising program for us. We see it more as we just want people to have fun before the three day weekend. We want it to be welcoming for everybody to come out," Zhou said.
One change they did make, however, was the length of the dance.
"This year we made the dance a little shorter just because last time it was kind of dragged on for a little bit," Uy said.
Those who came to the dance appreciated the thought put into its planning.
"The live jazz music was super cool and the dance sequence we learned was really fun. I felt like it was the perfect amount of time, [it] wasn't too short, but it didn't drag on either," freshman Becca Jeffries said. " I love dancing and I love hanging out with my friends so I thought it would be a blast, and it was."