Taylor Swift's 'Midnights' is dark pop perfection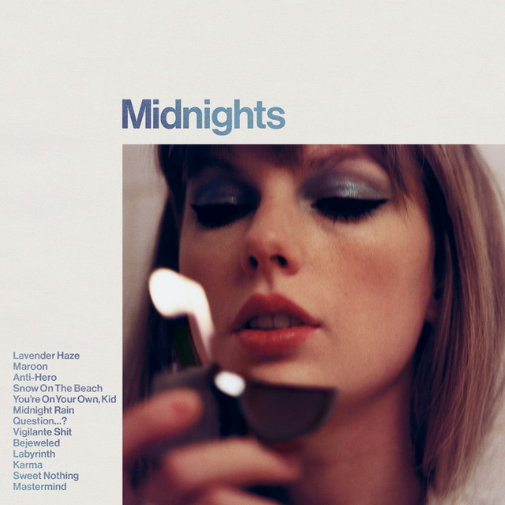 Imagine driving down a city road at midnight with the windows down and the wind in your hair. Or staying up studying for a test until three in the morning, the rest of your house silent save for the soft rustling of papers as you jot down notes. 
That is the vibe of Taylor Swift's tenth studio album, "Midnights," which was released on Oct. 21. It broke the record of Spotify's most-streamed album in a single day, instantly became the best selling album of 2022, and has had the largest sales week since Swift's own "reputation" in 2017. 
"Midnights" reverts back to the electronic pop of her fifth and sixth albums, "1989" and "reputation," including angelic vocals, synths, filtered bass, and dubstep. In essence, it's a sonically dark "1989" and subdued "reputation."
Lyrically, the songs describe moments throughout Swift's life, including themes of falling in love, getting revenge, insecurities, and self-reflection. Though the album is sonically very cohesive, the individual tracks are distinctive and stand on their own, which adds a layer of depth to the experience of listening to "Midnights" from top to bottom. 
One of my favorite songs off the album is "Vigilante S—," a truly jaw-dropping track. The intention of the song is clear with its very first lyric, "Draw the cat eye sharp enough to kill a man," followed by a dark dubstep beat fit to accompany a villain's entrance. 
"I don't dress for women, I don't dress for men/Lately I've been dressing for revenge," Swift sings in the hook before the chorus. "Don't get sad, get even," she continues.
Later in the second verse, Swift details the story of a woman getting revenge on her husband, and references reporting his white-collar crimes to the FBI, which many fans believe is a reference to Scooter Braun. The song empowers its listeners and continues to shock me after every listen. It is also the only track Swift wrote entirely by herself on the album. 
"Mastermind," the concluding track on "Midnights," is a close second with its storytelling-esque lyricism and relatable insecurities. Swift confesses to her significant other that she meticulously planned their encounters, singing "I laid the groundwork, and then, just like clockwork, the dominos cascaded in a line/What if I told you I'm a mastermind." 
The backing vocals and dubstep beats of "Mastermind" match the rest of "Midnights" and visually places its listener in the middle of a cloudy, crisp winter day. 
In conclusion, the album is sonically cohesive without sounding repetitive, and places listeners in a candle-lit, chilly room in the middle of the night. Every song tells a unique story and this album is Swift's most personal one to date. "Midnights" is dark pop perfection.