Jefferson varsity girls lacrosse holds senior night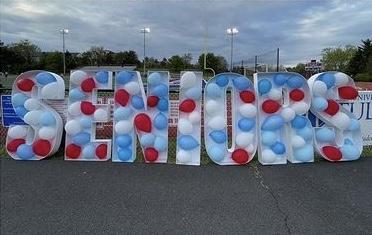 The Jefferson varsity girls lacrosse team had their senior night on Thursday, April 21. The day was spent appreciating the senior players, as it is their last year playing for Jefferson.
"This night highlights all of our seniors, and we celebrate them going off to college, as well as their commitment to the lacrosse team for the past few years," junior captain Emma Ylagan said. 
Senior night occurs at the end of the season, and it is usually on one of their last home games the team plays. The players on the team encourage students to attend the game. 
"It's the biggest game of the season, and it is when all the fans come. We want our seniors to win because it's our senior night. I do think everyone on the team will play better and give it their 100%," junior and varsity player Nandini Shyamala said. 
The game occurs directly after the celebration finishes. In the celebration, each senior is called one by one to walk down the runway, which is through a balloon arch with the other girls on the team cheering for them.
"During the ceremony that occurs before the game, every senior on the team gets recognized. They state which college they're going to attend, and what their favorite memory on the team was. We also have giant gift bags prepared to give to them, and made very pretty decorations, Shyamala said. 
It has taken planning and preparations from the rest of the team to organize the event for the seniors. While everyone on the team pitched in, it was the juniors that undertook the bulk of the work. 
"Since I'm one of the captains on the team that isn't a senior, I definitely had to do a lot of planning. Hardcore planning started around a month ago, however, we have been thinking about this night since the beginning of the season," Ylagan said. 
It was a group effort to plan this night. Not only did the players on the team help organize this night, but families also helped.
"I know that some girls on the team had their parents also pitch in to help. The planning got very heavy in the last three weeks when we realized it was coming up soon," sophomore Sinead Molony said.
Although the team lost their game against Falls Church High School, the celebration went smoothly, and the team was able to give those graduating a proper senior night.
"Everything worked out in the end. The seniors on our team are really grateful for everything. It's nice being able to work with them since they are good people in general, and they deserve it all," Shyamala and Ylagan said.