A teacher's journey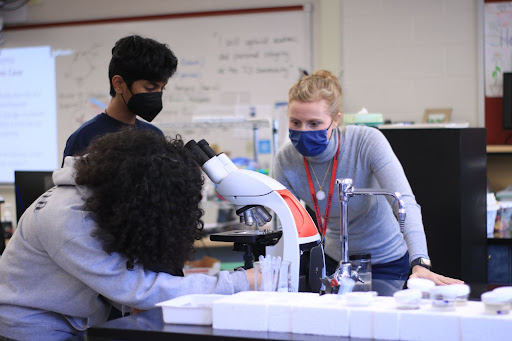 Marine biologist. Air Force physicist. These are just some of the previous careers the teachers of Jefferson had before. The past experiences of teachers are important, as it can be used to enhance the learning of their students. According to a study by Micah Stohlmann from the University of Minnesota, the more qualified teachers are in their field, the more effectively students can learn. 
Many Jefferson teachers have had years upon years of experience in research in the field of what they're teaching. For biology teacher Kathleen Morrow, the reason for becoming a Marine biologist was her childhood experiences and favored pastimes.
"I spent a lot of my childhood running around outside, playing with pond animals, going to aquariums, so I just fell in love with the aquatic world. I remember reading about a Marine Biologist in a fifth or sixth-grade textbook, and realizing that that was an actual job," Morrow said.
Astronomy teacher Kelsey Stewart had always wanted to serve in the Armed Forces, but she wasn't the "charge the hill" type of person and she thought that was all there was to the Armed Forces. That all changed when she set off to impress a cute boy from her college.
"He was in the reserve armed forces, so I went into the armed forces building near our campus and started talking to some people so I could go back and say that I was in the building. I ended up talking to several different branches out of curiosity," Stewart said. "The Army never got back to me, the Navy explained to me all the things I couldn't do, and the Air Force was like, yeah, we're the nerd branch. You can be a physicist in the Air Force. I was like, 'I don't have to charge the hill?' They were like, 'you're gonna be working at a desk. If you have to charge the hill, then we've got bigger problems.' I ended up trying out and loved it, so after two semesters I had decided that that was what I wanted to do."
The career swap for Morrow was not a decision that she made willingly; rather, it was a combination of changing lives and the nature of the academic system. 
"The academic system is broken, it's an incredibly challenging, competitive, and disheartening field to be in if you don't have the junction to put 24/7 effort into it, and also, my priorities had shifted, they'd done a one-eighty, and I realized that life was not all about striving for that 10-year track position, but also about raising my son. So my competitiveness slipped a little, but I don't regret that. After this, I eventually got to TJ," Morrow said.
Stewart had a more gradual transition between Air Force and teacher. She first decided to quit the Air Force and work in a charity after falling in love with it during her time stationed in Uganda, and when that job led her to Virginia, she decided to try something new.
"When we moved to Virginia, I already had my master's in education, and I thought it was finally time for something new," Stewart said. "I felt like God was calling me to use my master's in education to teach, and that's what led me here, to Jefferson."
While being an educator can be demanding, these teachers see their current job as tiring but a rewarding experience. 
"This is an exhausting job, but, at the end of the day when I walk to my car, I generally am happy and have a smile on my face, which is something that I couldn't say very often when I was in the academic world," Morrow said.