Garbage left behind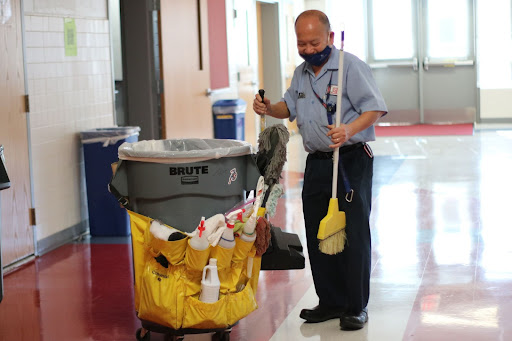 Hiss . . . crackle . . . beep . . . 
A voice emerges from the static of the walkie-talkie. "Could a custodian please go clean up a big amount of spilled water by room 69?" 
Junpei Yuan sighs, but this is only a small part of his daily responsibilities as head custodian.
Custodians are members of the school staff who clean and maintain the building. They dust, sweep, mop, and wax 365,000 square feet of property. Students leaving their trash lying around makes a custodian's job harder.
That is why SGA started the #SaveOurCustodians Movement. They created posters with direct commands like "Throw away your trash", and journalism and English teacher Erinn Harris made one that says, "Oh! Is this trash can full? It is? I know where you can find two more. And they're almost always empty."
According to freshmen Abhi Badia and Aayusha Sapkota, throwing away trash is the best way to show appreciation for custodians.
"I pick up my own trash, and if I see trash around me, I throw it away," Sapkota said. 
Throwing away trash is an easy task, but it can be a burden when there are bags of chips left on the floor or milk cartons left in the cubbies.
"It's about taking initiative; if it's not your trash, still throw it away. The custodians work morning to night cleaning everything; they don't need to have extra work," Badia said.
Annually, U.S. schools waste a total of 530,000 tons of food, which costs 9.7 million dollars a day to manage. This breaks down to about 39.2 pounds of food and 19.4 gallons of milk thrown out per school that custodians have to handle. 
"You cannot believe the amount of trash that is left behind," Yuan said. "If you finish eating lunch and you have trash, put it in the trash can. It would be a lot of help because it is hard for custodians during lunch." 
Throwing away your trash is not the only way to show gratitude. 
"It would make a custodian's day if they see a clean cafeteria, without having to clean it," Badia said. "There is also a Custodian Appreciation Day and if you want to take it a step further, you can talk to a custodian and learn more about them."