Jefferson custodians receive Custodial Staff of the Year award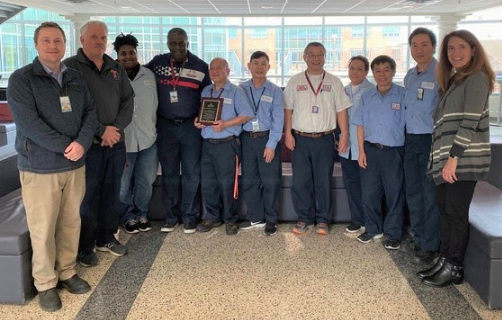 The Jefferson Custodial staff, consisting of 17 members, was selected for the 2019 Custodian Staff of the Year award. Out of a total of 24 high schools, the staff was awarded based on their high ratings for keeping the building clean.
"[The award] is based on their ratings and compared to all their colleagues across the county, they rated obviously high enough to get the award,"  Director of Student Activities Berkeley Hodges said.
All FCPS schools are evaluated on a bimonthly basis for cleaning standards. The condition of the building, both the interior and exterior, is evaluated as well. Each school is then rated according to these evaluations. One elementary, middle, and high school is nominated to receive this award every year.
"This is the first time that our custodial staff has won an award like this. Although our supervisor, his name is Junpei Yuan has been recognized for his leadership individually," Hodges said.
Andrew McCracken, manager of FCPS Plant operations, came to Jefferson to deliver the award and congratulate the team.
The award also recognized the staff for the dedication and commitment to keeping Jefferson clean and orderly both during and after the school day.