Loudoun County buses now have free WiFi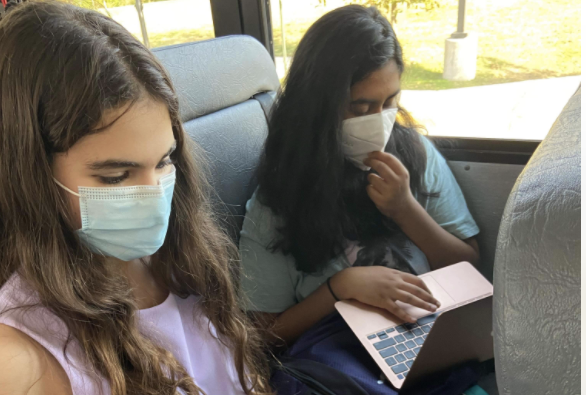 As students filter onto Loudoun county school buses, many of them open up computers and binders to use their long bus ride as a study period. Thanks to the new addition of free WiFi on the Loudoun county school buses, students are now able to use the internet while on the bus, which can aid them in studying, completing homework, and even just killing time.
"This was the first year I noticed we had WiFi, and I was like, 'Oh, we have WiFi, I did not know that,'" said junior Sahishnu Hanumansetty.
For many of the students who ride Loudoun county buses, the addition of free WiFi helps them take advantage of the long bus rides. Students are now allocating this time towards schoolwork and other online activities. 
"It's really helpful because if I need to do an assignment, I can do it on the bus now. Especially when I'm more busy, the free WiFi helps manage my workload. I can plan out my things better," said freshman Japneet Kaur.
The WiFi provided on buses function similarly to the ones in school, with certain sites such as Facebook and Instagram restricted on devices. This functionality allows for the buses to still provide an educational environment to the students. 
"[The WiFi] is really useful, especially if I forgot to do something, I don't have to worry about doing it in the three minutes before class, I can just do it in the hour I have on the bus," said Kaur.
This change does not affect TJ Loudoun buses alone, but affects all of the students across the entire county. 
"My brother also [goes to school in] Loudoun and he also has WiFi on the bus, and he's in middle school, so I think they started putting WiFi on all buses for Loudoun," said Hanumansetty.
However, while the WiFi policy has been helpful for most students, there is still room for improvement in the system. 
"If it's possible, it would be great if they could improve the quality of the wifi. Sometimes the wifi cuts out randomly and it can get inconvenient," said Kaur. 
With the positive utilization of the free WiFi in Loudoun county buses, it may be a good policy to institute for other Jefferson buses. Bus rides to other areas, such as Prince William County, can reach up to 90 minutes. However, for now, the WiFi has improved the rides of the people on Loudoun buses, and has served as a great place for online activities. 
"I definitely remember a time I've used it before… I had not finished my APush homework and I used it to finish my thesis statement in time… I think it's a really good resource to use considering you're on the bus for, like, 45 minutes," said Hanumansetty.