Ready to rock
Thomas Jefferson Theater Arts presents their fall musical, School of Rock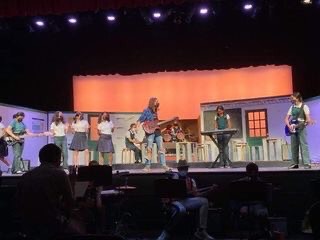 School of Rock, Thomas Jefferson Theater Arts's (TJTA) fall musical, premiered on Oct. 1 to a full house. The play is based on the 2003 film with the same name, and follows Dewey Finn, a guitarist and singer who has recently been kicked out of his band. By impersonating his friend, Ned Schneebly, he gets a job as a substitute teacher, and forms a band with the students in his class. The result is a musical that is both comedic and heartwarming.
Senior Zander Kuebler plays the lead role of Dewey Finn, and provides the show with a frenetic and infectious energy. 
"Dewey is a fun, fun role," Kuebler said. "He's crazy. And I think that made me very comfortable because I got to make weird choices and try them out, and it didn't hurt because he's crazy."
The musical was a multifaceted effort, with the cast, crew, and musicians all putting in time and effort to get the show running. Due to COVID, much of the cast had not been to in-person rehearsals in a year and a half, and many of the underclassmen had never participated in a high school musical before.
"[Rehearsing] was tough because we hadn't rehearsed in person for over a year and a half, so it was particularly difficult to get back in the mode of trying things, making choices, making acting choices, making character choices, and letting the director and the technician say, well, maybe try something else, or that was great, keep that," Kuebler said.
However, the cast was definitely up to the challenge, particularly the underclassmen.
"Especially shout out to the underclassmen, who hadn't been in the high school show before and stepped up the challenge, and were willing to take criticism and take suggestions and turn the show into the amazing thing that it is. And, obviously, to Mr. Reid [the drama teacher] and everyone else for guiding us through [rehearsals]," Kuebler said.
The tech crew was also hard at work preparing for this performance. Seniors Ryan Lien and Rachel Kwon were the light designers, and they spent countless hours designing and making sure that the light set up for the show was perfect.
"[Designing the lights] is a long process, you have to angle them to hit where you want, and you need to find the balance between telling a story through color… and making it concrete, something that actually exists in the real world. So finding that in getting the lights in where you want them to be takes a lot of revision, a lot of time, but it is so rewarding," Lien said.
Personally, one of the things that made this performance stand out to me was the live pit band that consisted of drums, bass, piano, and guitar. Senior Callie Thomas was one of the musicians that was in the pit orchestra, and said that genre of the musical caused some problems when rehearsing.
"It was kind of difficult because School of Rock is a very big departure from the other shows that TJTA has done in the past because electric guitars and rock music is very different from, say, Newsies," Thomas said. "But then when it all came together [on opening night] it just felt amazing to finally get it all there."
If you have the opportunity to see this musical, I would highly recommend it. Throughout the show, it was clear the audience, cast, musicians, and crew all had so much fun.
"We may go to a STEM school, we may all have our own stressful lives, but stories can bring comfort and solace like nothing else can. And there is something so powerful about students coming together over something they're so passionate about," Lien said.