Behind twins
Jefferson freshmen and fraternal twins Ashley and Lindsay Hwang share how twins aren't always identical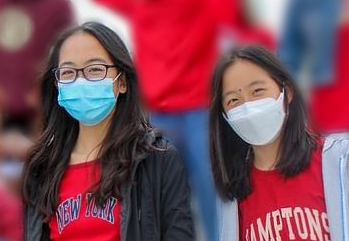 Twin. By definition, the word means "link," "combine," or "something containing or consisting of two matching or corresponding parts." People use the term to describe two people wearing the same outfit, or two unrelated people who may look or act practically the same. Ironically, in reality, people born applicable to the last definition of twin — "one of two children or animals born at the same birth" — are often not similar. Sometimes, they're not alike at all.
To those who don't know many, if any, twins, when told someone is one, it is often assumed they are identical. However, this is often not the case; according to Diffen, identical twins make up 0.3% of the population, while fraternal twins make up from 0.6% to 1% of all births. Despite there being a larger population of fraternal twins, many only consider someone to be a twin if they have the same face, hair, height, in addition to other physical characteristics.
Lindsay and Ashley Hwang are a set of fraternal twins in their freshman year at Jefferson. While alike in some ways as sisters, they find themselves differing as individuals in their interests, personalities, and behaviors.
"Even though we're twins, we have a lot of minor differences, like Ashley is super neat but I'm a bit less organized," L. Hwang said.
Although both Ashley and Lindsay enjoy STEM subjects, they find themselves differing in what sports and extracurriculars they most enjoy spending their time in.
"I really like dancing and baking sweet foods, while Lindsay enjoys track and cooking savory ones," A. Hwang said.
Being a twin brings definite perks to the table, such as the encouragement and support of an extra friend and family, but also comes with quite a few detriments.
"It's really nice to have someone to talk to no matter what, but it's so difficult being compared constantly," A. Hwang said.
People often only characterize two siblings as twins if they have similar physical features, rather than classifying them as twins simply because of a shared day of birth.
"Because we're not identical, almost everyone assumes that we're just best friends that hangout together a lot. Every time we tell people we're twins, they [respond], 'Woah no way!'" L. Hwang explained.
Academically, although attending the same school, L. and A. Hwang find themselves differing in their educational experiences at Jefferson.
"Personally, I prefer math and engineering when it comes to STEM classes, while Ashley prefers [biology]. At [Jefferson], even though we'll be taking the same required classes, I strongly believe that we'll be going on different paths [in terms of electives in the future]," L. Hwang said.
Despite these two sisters being so completely different in many ways, including in physical appearances, they're often mistaken for each other simply because they're twins.
"Something funny that happened [to me] was that I once received a trophy for an achievement, but instead of my name being engraved in it, my sister's was," L. Hwang said.
While the pair are close, L. and A. Hwang don't necessarily want to spend all of their time together.
"We've always had separate teachers, classes and friend groups, which is nice because we're constantly around each other at home, and it's refreshing to get a break [from one another]," A. Hwang said.
While being a twin means being in each other's lives a lot, it does not necessarily mean identical paths. Following their first year at Jefferson, Ashley and Lindsay Hwang share their excitement to pursue their respective interests and passions as individuals.