Gavin Cramer: Overcoming Adversity
A car accident and diabetes diagnosis haven't stopped junior Cramer Cramer from throwing strikes
This story is an extension of our May issue highlighting Spring Standouts
Sprained ankles, broken arms, and bruised shoulders are all parts of playing a sport. However, junior Gavin Cramer came across his worst injury outside of the baseball mound. 
After winning a game against Marshall in his freshman year, Cramer was crossing the street when his high school baseball career seemed to vanish in a second. 
"I really only had enough time to scoot back my legs. I didn't even know the car hit me and it wasn't dead center but the side of the car near the mirror. I just know that I had enough time to think for myself to tilt my head and that tilting my head kept myself from head on trauma," Cramer said.
The pain didn't set in immediately but the injuries were still present.
"I got up because I had so much adrenaline that the foot didn't hurt yet. I walked over to the curb and I thought it was fine but that just wasn't the case. I broke my foot, had some road rash, and luckily my left ankle had some displacement but I didn't need surgery," Cramer said.
Soon, Cramer's thoughts turned from riding the high of winning against Marshall to anxiety over the fact that he likely wouldn't be returning to the mound that season.
"
I've been hit by a car and faced diabetes. I've had to fight through so much already to get to where I'm at now"
— junior Gavin Cramer
"It was just the realization that I'm done for the season and that really hurt because I wanted to be on the field for the guys and I wanted to help out. We were only in JV at the time but it mattered to us. We wanted to be first in our division. And, I still went to all the games on my scooter because I wanted to be out there more than anything," Cramer said.
Crushed, Cramer struggled to regain momentum and push past his injuries.
"To this day, I blame myself because I don't think I did physical therapy well enough. I still don't have full mobility in my foot. If I try to step out my left foot and go back on my right, I am unable to put enough pressure to go all the way down," Cramer said.
However, Cramer soon learned to take this setback and use it to fuel his motivation.
"I built that hunger and determination to return stronger and help my summer travel team," Cramer said.
Cramer did just that and returned to the team in record time.
"I was really lucky to be able to make it back in three months because my original recovery was supposed to take double that amount of time," Cramer said. "Due to the shorter recovery, I played the last game of our summer season.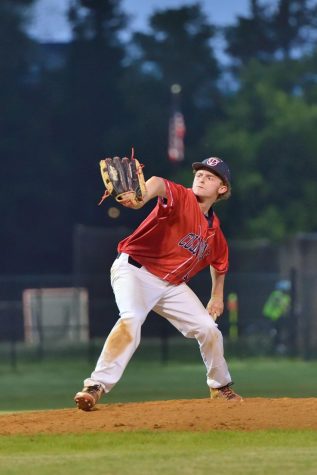 He not only had a quick return, but a memorable one.
"I threw six innings where I didn't give up any runs and so that was a huge return for me to be able to get back on the mound after going through this incident," Cramer said.
Still, Cramer faced more trouble when it came to staying on the field.
"In late December, I started losing a lot of weight and I was down 30 pounds in a few months. At first, my family and I thought it was nothing because I was active and exercising as the season had started. Soon after, I started getting really thirsty all the time and I was falling asleep in class," Cramer said. 
Cramer returned to baseball just to face another hurdle in his path.
"So, I had my first return to TJ baseball since the car crash and sports being canceled due to COVID-19 on April 27th for the varsity game. Immediately after the game, I just threw up and I went to the hospital the next day. I thought it was COVID-19 but then they tested my blood and I found out I had diabetes."
However, his diabetes diagnosis could be a blessing in disguise. Cramer had been struggling with recruitment and was looking for a way to improve his play.
"For college recruitment, I lack a good velocity for prospects. I have been told that I have the skill of a pitcher but I don't throw hard and that makes me a fringe prospect," Cramer said. 
Cramer believes diabetes was responsible for his slower velocity. By treating diabetes, he'll be able to throw faster and become a stronger prospect. 
"Diabetes is known to burn off muscle. So I am a little more optimistic than I was two weeks ago about being picked up by a school when I can build back that muscle."
Regardless, fighting through these issues has taught Cramer how to adapt into any situation.
"I've been hit by a car and faced diabetes. I've had to fight through so much already to get to where I'm at now," Cramer said. "Lacking velocity is so inconsequential that I don't see it stopping me."
Leave a Comment