Icon for Hire combine rock, pop, and rap in "Amorphous"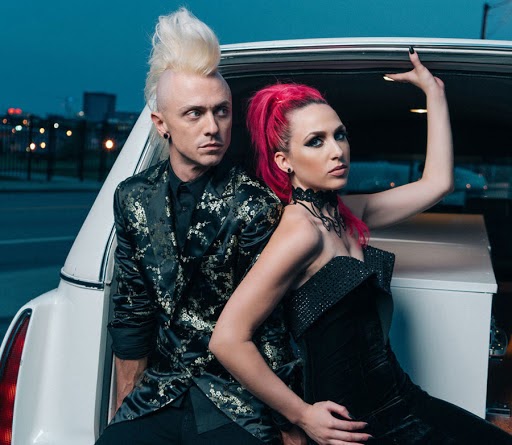 American rock band Icon for Hire recently released their fourth studio album, "Amorphous," on Friday, Feb. 19. Icon for Hire was formed in Illinois in 2007 and is a duo of singer Ariel Bloomer and guitarist Shawn Jump. The band is known for combining alternative metal (commonly known as alt-metal) and pop, and many of their songs have themes of overcoming mental health challenges. Both of these signature elements are featured in "Amorphous," yet each song feels fresh without being repetitive.
Although their debut album "Scripted" and their self-titled sophomore album prominently feature just guitar and drums, like many bands, their sound has become more electronic over the years. That's not to say they've abandoned the guitar—Jump shines in tracks such as "Sticks and Stones," filling in the gaps with incredible guitar solos.
The track "Curse or Cure" has a sound similar to those of alt-rock bands such as Royal Blood, but it adds an electronic kick to a powerful backing guitar. 
Bloomer delivers rapid fire lyrics with hit after hit in "Panic Attacks", and mixes rock and rap in a way that showcases her incredible voice. As one can probably tell from the title, the lyrics focus on anxiety and panic, and these themes are amplified by the sense of urgency in Bloomer's voice.
"Background Sad" is one of the slower songs on the album, and it deals with feelings of anxiety and imposter syndrome, emotions which for many have been amplified by the current pandemic. The chorus has lines like "I tell everyone I got better / But what if I'm not?" and Bloomer sings these with heart wrenching emotion and clarity. I loved the stripped-back sound of this track, and I thought it enhanced the vocals without causing it to become boring.
My favorite track on the album is "Waste My Hate." It combines heavy guitar with anthem-like lyrics meant to be shouted. The song combines pop-punk and synth in a way reminiscent of Fall Out Boy's later songs, such as ones off of their album "Mania," but Bloomer's voice adds a new dimension to the seemingly familiar track. 
Because of social distancing and quarantining, many of the albums that have been released recently are written and performed by only one person, and they thus have a more simplistic feel. Many of these songs use acoustic guitars and synth beats. However, "Amorphous" doesn't follow in this new "COVID" genre at all. The album is full of pop-rock melodies, and Bloomer fills every available second with as many lines as she can. Every interlude provides the perfect transition into the next track, and each song is confident, demanding your attention.
The album is a testament to Bloomer's journey of turning self-hate into self-love, and I loved the infectious energy that's in every track. With upbeat drums and stunning vocals, this is an album that stands out in a crowd.