New schedule goes into effect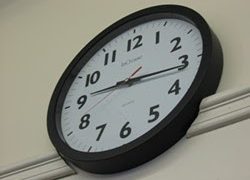 A new schedule went into effect on Feb. 16. For Jefferson students, a regular school day now ends at 3:45pm, and breaks in between classes are now five minutes shorter. However, students feel most affected by the change in lunchtime, since lunch is now divided into an A and a B block.
For students with the same lunch block on both red and blue days, adjusting to the new schedule is easy. 
"I feel like not much has changed, since it's only 15 minutes in the end that changed," sophomore Ram Reddy said. "I also [have] A lunch [on] both [red and blue] days so my schedule is practically the same."
However, some students feel that the B lunch block is too late to eat lunch.
"Some of my friends have B lunch, and after just one day of B lunch they've already complained about it to me," sophomore Aidan Li said. "Some of my friends say that lunch is [now] too late and that they're figuratively starving."
Senior Allen Nguyen acknowledges that the dramatic change can feel sudden, especially for seniors who have grown accustomed to the one lunch block of the last four years.
"All of a sudden we're getting different lunches," Nguyen said. "In online school that doesn't matter, because you get up, grab lunch, [and] sit back down. It's sort of unfair [that] some students get their lunch earlier, some students get their lunch later, and then your friends get [to eat] in this block [while] you yourself are in a different block."
Senior Timothy Palamarchuk has both B block lunches, but chooses to eat lunch during third period. Like Nguyen, he shares the same impression of the new class schedules.
"Well, I do think it is a good idea to keep [in-person] students [in] two groups so that there's less contact during lunch time when students are all over the school. However I do think it is annoying, at least for the online students, because of course they're either going to lunch fairly early or waiting until 1:25 to go to lunch," Palamarchuk said.
Although the need to limit interaction for in-person students is understood, some feel that the response could have been handled better.
"The thing with TJ is that not a lot of people are in-person. As a whole, one of my teachers says she has one [student] attending in person. We're [changing the schedule] for less than 200 [or] 100 people in the building. It feels a little unfair that we're supposed to accommodate that many people," Nguyen said.