Online, hybrid, and beyond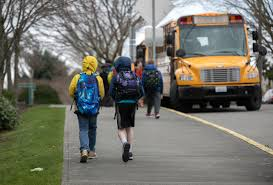 Wi-Fi connection issues. Shortened class times. Black screens permeating across the board, leaving a feeling of detachment between students and teachers. After months of mandated online instruction, the FCPS School Board has confirmed that it will soon allow willing high school students to return to school. Students will be given the option to attend in-person hybrid instruction at their schools once the Phase 3 requirements have been cleared in FCPS. 
"Doing virtual [instruction], especially in junior year, makes it hard to get things like recommendations, which is pretty important. But it's not as important as keeping everyone safe," junior Jinwoo Kim, who chose to stay online, said.
Once clearance is given, students who chose the hybrid option will be allowed to return to school for 2 days every week. The schedules will be blocked out so that half of the students will go to school on Tuesday and Wednesday, and the rest will go on Thursday and Friday.
"I don't think [hybrid instruction] will be as hard to learn from as online instruction. But it may be challenging to wear masks all day and sit in a bus for an hour," freshman Kedar Prasad, who chose the hybrid option, said.
In addition, students who choose hybrid instruction will attend online classes for the 2 days that they are not at school. The students that opt to stay virtual will be allowed to listen to the classes as usual in a step called concurrent instruction, where teachers will instruct in-person students while simultaneously broadcasting the lesson to online students.
"I think that there will be challenges for the teachers because they will have to split their attention between their computer and students. However, in-person students will be able to communicate a lot better, both with other students and with the teacher," freshman Shreyan Dey said. Dey chose to stay online.
While in the school building, students will have to follow the Center for Disease Control and Prevention's five COVID-19 mitigation strategies: the use of face masks, disinfection of surfaces, contact tracing, hand hygiene, and social distancing.
"Make sure you're safe, make sure you're wearing your masks properly. My first advice would be to not go because of COVID, but if you do, stay safe," Kim said.
 Of course, this new format will not come without challenges. Teachers and administrators are putting in extra work to ensure a smooth transition from online to in-person learning. In addition, it is uncertain as to whether or not the quality of video and/or audio of students and teachers will be the same compared to now.
"There will be a huge change compared to online since we can now see each other and convey emotions. Additionally, [hyrbid students] won't have nearly as many tech-related problems as we did online," Prasad said.
As discussed in the board meeting, hybrid instruction calls for at least 87 percent of the teachers at every school to be available for in-person class. It also requires a ratio of 1 on-call staff personnel for every 190 students. FCPS is currently in the process of making sure that these requirements will be met once hybrid instruction is cleared to take place.