Merry college apps!
Younger students should heed the advice of current seniors to alleviate some of the stress that comes from college applications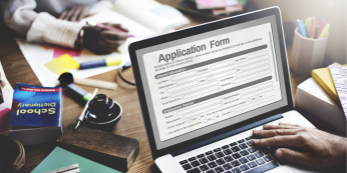 A common stereotype that riddles movies and tv shows centered around high school is that senior year of high school is nothing but joyous and carefree. This is anything but the truth, as the last year of high school is often the year where students take their most rigorous classes and complete their college applications. This all happens while they are transitioning into adulthood and gaining new responsibilities. However, there are a few things rising seniors can do to lower the pressure that comes with college apps. Senior Kaleena Roeva strongly recommends starting your college apps in the summer preceding senior year, even if you only start brainstorming ideas for the required essays (which are a major part of the application process). 
"The biggest piece of advice I can give to juniors is to start brainstorming ideas over the summer. Just writing four, five, six, even 20 ideas on paper and then starting to narrow them down to two or three will go a long way towards lowering the stress that comes with college apps," senior Kaleena Roeva said. 
Additionally, though it may not directly correlate with college apps, a lot of Jefferson students have a hard time figuring out which colleges to apply to, since the United States has about 5,300 colleges and universities. Senior Ameen Al-E-Jalil took on this daunting task by utilizing two major criteria to narrow his list of colleges. 
"The two most important questions you need to take into consideration when choosing a list of colleges to apply to is whether you can imagine yourself being at the school, such as if you are comfortable with the local climate, and if you can afford it," senior Ameen Al-E-Jalil said. 
Furthermore, recognizing the diverse educational background of the Jefferson staff, Al-E-Jalil also recommends that students find teachers who went to a school they are interested in attending. 
"Let's say you are interested in attending UVA, you can go look at teachers who went to UVA and start asking them questions about [the] school and their experiences there," Al-E-Jalil said. 
College apps not only play a big role in students' lives but are also a means of living for many. College counseling is a booming industry in the United States, with thousands of students flocking to college counselors to get help on their college applications so they can attend their dream schools. However, the average hourly cost of a private college consultant can be about 300 dollars a year, which is more than many can afford. Because of this, some seniors turn to their English teacher for assistance. Unfortunately, high school teachers are already immensely busy, so they may have to refuse. Therefore, Roeva thinks that college application preparation should be a part of the junior year English curriculum, even if it's only taught during the last couple of classes before summer break.  
"I think it would be really helpful if there was a built in time at the end of junior year in English class for students to work with English teachers to… start developing their personal narratives for their college applications," Roeva said. 
The most important tip that Al-E-Jalil has for juniors is to complete their applications early. 
"Please, please, do your common app as soon as possible, finish your applications as soon as possible. Doing this has been the most helpful thing I've done this entire year. It pays dividends to finish early," Al-E-Jalil said.