Libraries in limbo
As library use declines due the COVID-19 pandemic, Jefferson students share their thoughts about the purpose and future of libraries.
The neatly organized bookshelves surround you, and the smell of paper floods the air as you pick out an interesting book and find a quiet corner to read at. Before the pandemic, this was part of the reality for many Jefferson students, who regularly used regional public libraries. These libraries have a variety of functions, from lending books and serving as a meeting place, to just offering a safe place to study. Recently though, they have seen a decline in use, leading Jefferson students to contemplate their future.
The purpose of public libraries
For sophomore William Gutierrez, the location of public libraries mattered more than their services.
"In high school, I went [to the public library] every weekday but it was because my bus stop was there, I didn't really go there to use the services as much as I used to," Gutierrez said. "If [my parents] weren't there, I would just go to the library and study there."
For junior Liam West, public libraries were most appealing when other options, like school libraries, weren't as readily available.
"I mostly used them over the summer, maybe once every two weeks," West said. "I definitely borrowed books for personal reading stuff, but I did use them for studying quite a bit."
Others, like sophomore Andrew Ryu, utilize public libraries only for research purposes.
"I never use public libraries unless I have to for a project," Ryu said. "I haven't read a book for fun in years."
While many students believe public libraries have a purpose, they fear that these resources are being underutilized by Jefferson students. Gutiérrez thinks that increased advertisement could be a solution.
"It's kind of unfortunate really, they have a lot of really good resources and I don't think the community recognizes that enough. I feel like [libraries] should definitely more widely advertise their programs," Gutierrez said. "Really, the few places that you'll see [advertisements] sometimes are in elementary schools like once a year, at the library sometimes, maybe like a community center, but they really don't advertise at all which is kind of a shame because they're actually quite useful."
West thinks that beyond advertisement, libraries also need to diversify their products and services, with more events and technologies.
"I know that in some counties, they have like 3D printers at the library, which is really neat. And so I think having more things be at the library, [and] having events at the library, putting out materials flyers and saying like, 'Hey, this is at the library' [will bring more people in]," West said. "Then while people are at the library and checking out this new cool thing that they're doing, they become aware of where the library is and what it has to offer."
Public libraries and the coronavirus pandemic
Libraries in the area have already been experiencing a year over year decrease in circulation (amount of books/resources lent per year), and the pandemic has only worsened the situation. While libraries' electronic circulation has increased, it has not been enough to offset the decrease in print circulation. This has led to some speculation in the Jefferson community over the future of public libraries.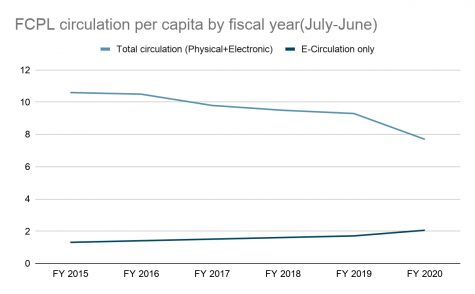 "I think that there's definitely a lot of people [whose] use case for the library is now done online. Like, you can get books online. But I think that a lot of books are still physical, and I think that virtual will never replace some physical aspects," West said. "Libraries will definitely have to adapt. " 
Even as public libraries are going through a difficult moment right now, public support for them has not waned. For example, Fairfax County voters overwhelmingly supported a $90 million plan to renovate four libraries, indicating that we still see the value in public libraries. Much of this value comes from a certain homey feel students describe that's hard to emulate online.
"You walk in, and everything's very organized. There's different sections, and at the library I go to you can check yourself out, which I think is cool. And they have special software that they use," West said. "A lot of thought's been put into it, and so I enjoy that." 
Either way, as a vaccine inches closer, public libraries, like most other things that have been lost with the coronavirus pandemic, will soon return to the lives of Jefferson students.
"Even though the library hadn't been as big a part of my life, not being able to do that kind of stuff anymore definitely is a little bit sad," Gutierrez said. "So, when quarantine and lockdown is all over, I'm probably going to go back to the library and do that again because I guess that's one part of my life that I wish I could definitely have back."