Investment club members take a field trip to New York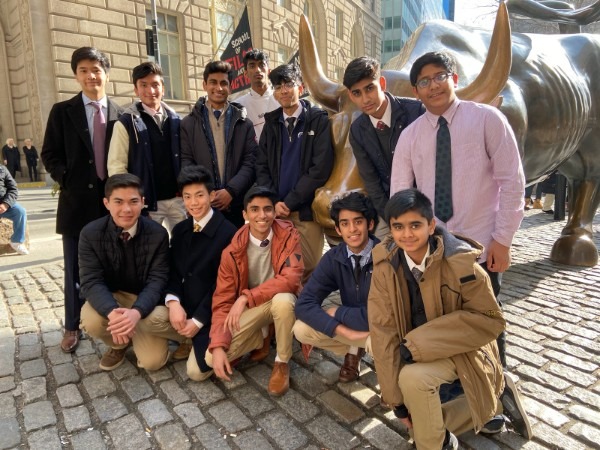 The Jefferson Investment Club took a two-day field trip to New York City to learn about finance and investing with real business executives. The club left Virginia at 5:45 a.m on Friday, Jan. 23, and returned at 9:00 pm the following day. 
On Friday, they went to the Federal Reserve, visited Goldman Sachs to talk with executives, and met Jefferson Alumni James Galante, who was a director at BlackRock, an investment management company. 
"We went to Goldman Sachs, [where] they gave us a two hour panel where they had four to five different speakers come from different departments like ACM, [the] investment banking division, securities, and trading," junior Arjun Dhumne, president of Investment Club, said. "That was probably the highlight of our trip, just going there."
Although the purpose of the trip was to visit various significant financial sites, such as the Federal Reserve, and speak to alumni about their experiences in finance after high school, there was, of course, time for exploring the streets of the most populated city in the United States.
"[Saturday morning,] we visited the Empire State Building. However, it was foggy so we could not see much from the observation deck," freshman Vinay Ayala said. "After that, all of us split up and explored New York City. Ameen and I went to Battery Park, the World Trade Center, and the Brooklyn promenade, where we got fantastic pictures of Manhattan. Some of the others went to SoHo district."
Overall the trip helped provide students a deeper insight into investment for all the club members, from understanding the inner workings of the stock trade to different careers.
"I personally learned a lot about the career paths and opportunities available to me in the finance industry and gained a much deeper understanding of what they actually do on wall street. I learned about the importance of networking and being social as well," freshman Neil Agrawal said.